22 June 2023
National Day of Craft Brewing – You can trust Comac for the perfect beer!
Every day is a good one to celebrate this favourite drink, although on the 23rd June… It is even more! For the past three years, namely, this has been the date selected as the National Day of Craft Brewing by Unionbirrai, the Italian trade association of beer crafters preserving the industry of the Italian beer, a product that in 2022 has reached peak records for production and consumption.
According to the Annual Report from Assobirra (the national association of brewers and maltsters) this year in Italy production has reached 18.4 million hectolitres, while 22.3 million hectolitres were for consumption (with 37.8 litres as per capita consumption).
As summer is approaching, beer is confirmed as the perfect drink for socializing, matched with the values of variety and measure – this is also due to the fair increase of the low-alcohol and alcohol-free beers – together with quality in each production phase, from raw materials to the glass.
To keep up with the demand from beer lovers, who are increasingly passionate and aware, having an excellent filling equipment is a key "ingredient", and Comac knows that very well!
Our solutions for kegs and cans help in keeping high quality standards, with an eye on environmental sustainability.
Why choosing Comac – The advantages of our plants
All our plants are indeed designed to minimize the impact of production on the environment and grant excellent performance (reducing waste and machine outage), without altering flavour and distinctiveness of each recipe.
Among our advantages:
Our team expertise and the ties with multinational group ATS Automation make us a trustworthy partner in all phases, from equipment design through installation, via technical support and after sales.
Comac range – Solutions for kegs
Comac keg plants can cover a quite wide production range, from 15 to 1,200 kegs/hour, to meet any type of requirement – from craft brewing companies to the biggest businesses.
Below an overview of our solutions dedicated to small and medium businesses (up to 40 kegs/hour):
Comac range – Solutions for cans
Can filling lines can fill up 3,000 to 12,000 cans an hour due to compact and performing monoblocks for any production requirement: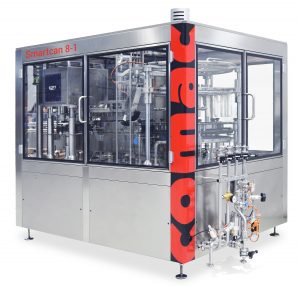 Our services
To make our customers' activities even more efficient, Comac provides a wide range of services such as:
If you wish to receive more info about our plants, get in touch with our Sales Department. We will be glad to help you choose the best solution for the production of your beer, with the highest quality and efficiency!