A company with people at the center
«COMAC is a human experience» «We think we have to care about our people, to give back the trust they have given to us.»
Giorgio Donadoni, Founder and CEO
None of Comac results should have been possible without talent, competence and dedication of the people who work with us. For this reason, people are at the center of our entire organization and we give value to their skills and capabilities while managing a continuous growth.
All COMAC employees are constantly involved in trainings, to develop their technical competences and soft skills at various levels, coherently with their responsibilities, through our internal Academy.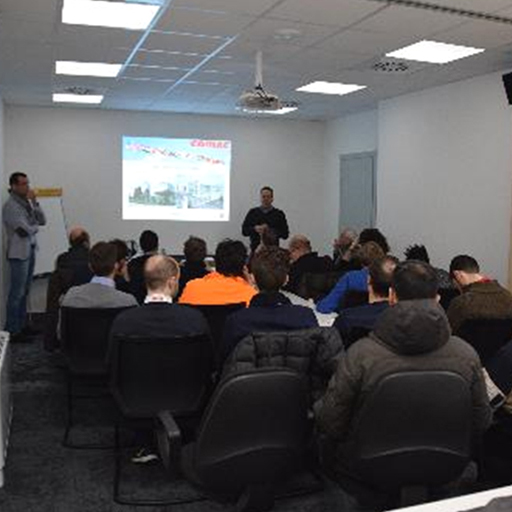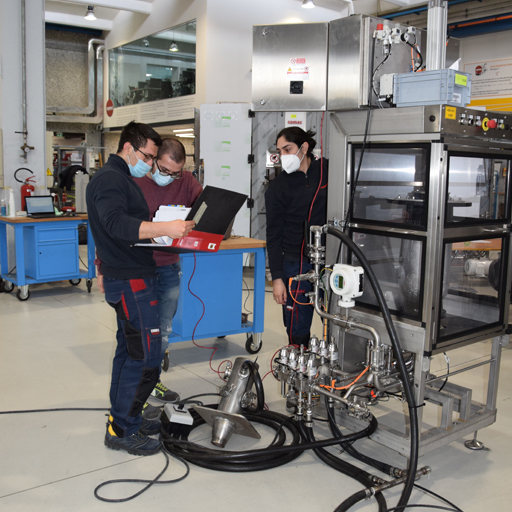 Our welfare
«Peaceful people means productive people» «I deeply take my responsibility, since the choice of a job is crucial. Like an obstetrician delivers babies everyday – and for the mother this may happen once in her life -, everyday I interview and hire people, conscious that for these people it is a fundamental moment in their life.»
Giuliana Rossini, HR manager
We deeply feel the responsibility to be a reference point for our employees and their families. That is why we believe our duty is to offer a comfortable working place, in which everyone can express skills in the best way and allow Comac reach new goals.
All Comac welfare initiatives are based on this belief – Small and big ways to encourage a work-life balance and solve any daily issues.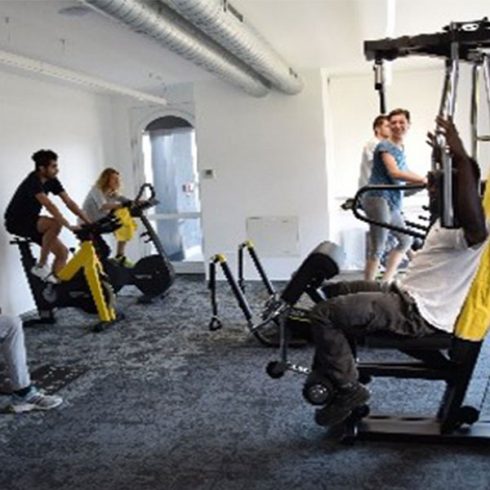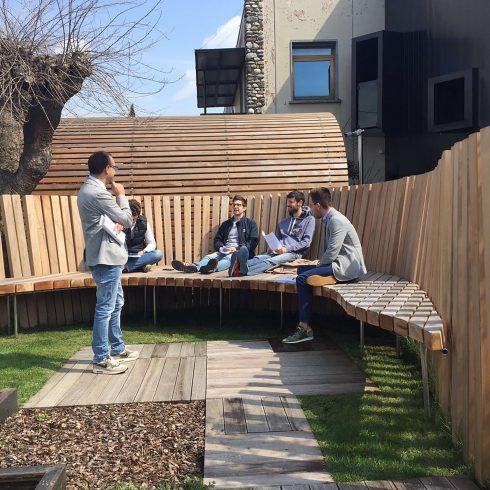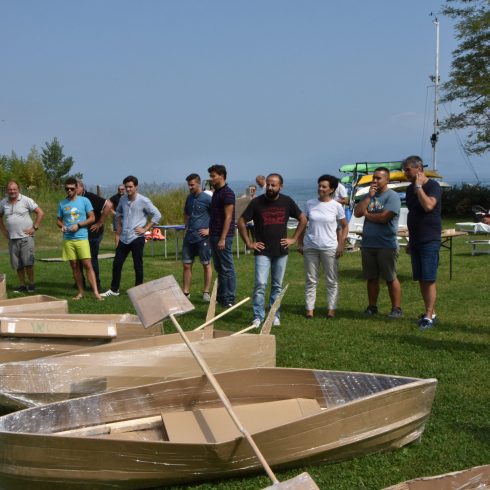 Flexible time for clock-in & clock-out hours
Meal service with doggy bag service
Company gym and multi-sensory garden with leisure area
Indoor and outdoor team building activities
Language courses with native-speaking teachers
Multimedia room with streaming services, to improve language learning
Parcel delivery service at warehouse
Laundry service
Car washing & car repair service
In-house med consultants (operating within the Italian NHS)
Attention to local initiatives and talents
«I wish my enthusiasm for my job is shared among the people I work with. The value I inherited is not only about a personal growth, but it relates to the growth of the people around me.»
Daniele Gotti, Operations Manager
Territory is an important part in Comac results: it is where our employees' know-how originates and that makes, and will continue to make, our company great.
From the very beginning of the growing path, Comac feeds talents sponsoring and participating in school and University initiatives for students of all grades, from counseling to work-school activities and internships.
In addition to organizing social events for employees, COMAC actively supports many local charity and non-profit organizations.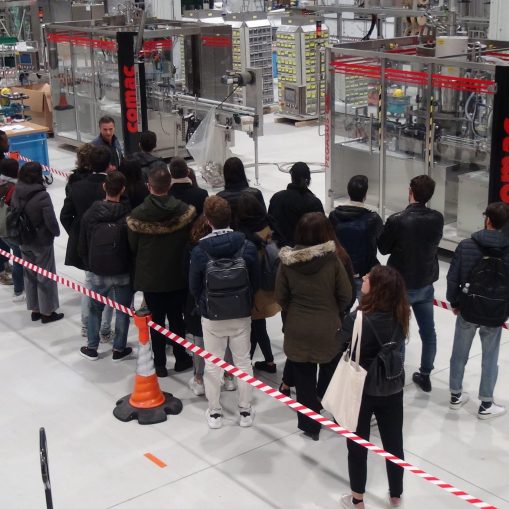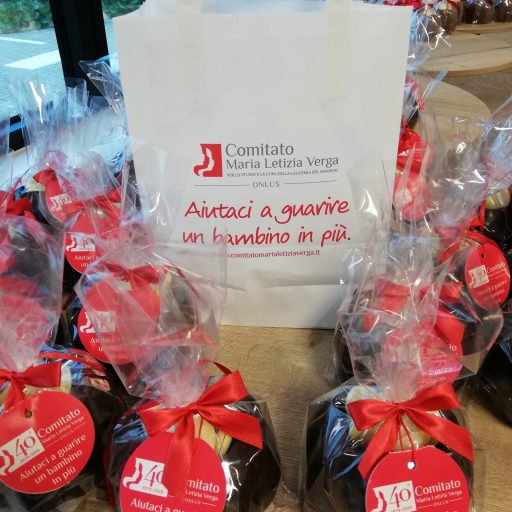 Welfare awards
Our commitment to constantly improve company welfare has been recognized with several awards, received throughout the years: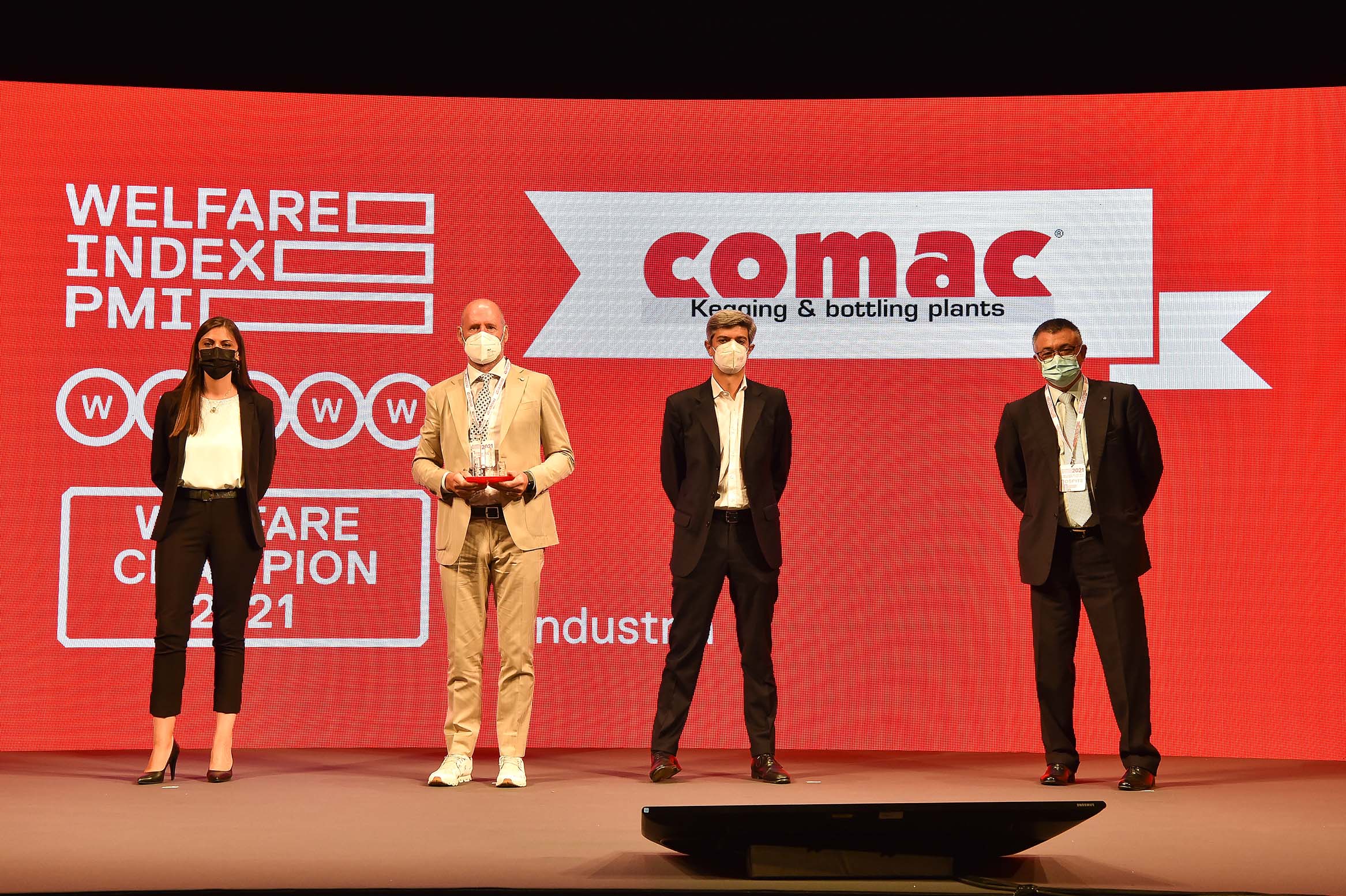 WELFARE INDEX PMI 2021
Best Ranking 5W confirmed in the category "Close to families: support for expenses and free time management".
From left to right: Anna Ascani (Undersecretary for Economic Development), Giorgio Donadoni (CEO Comac), Marco Sesana (Country Manager & CEO Generali Italia and Global Business Line), Dario Bruni (Delegate of the President of Confartigianato for Labor and Bilateralism)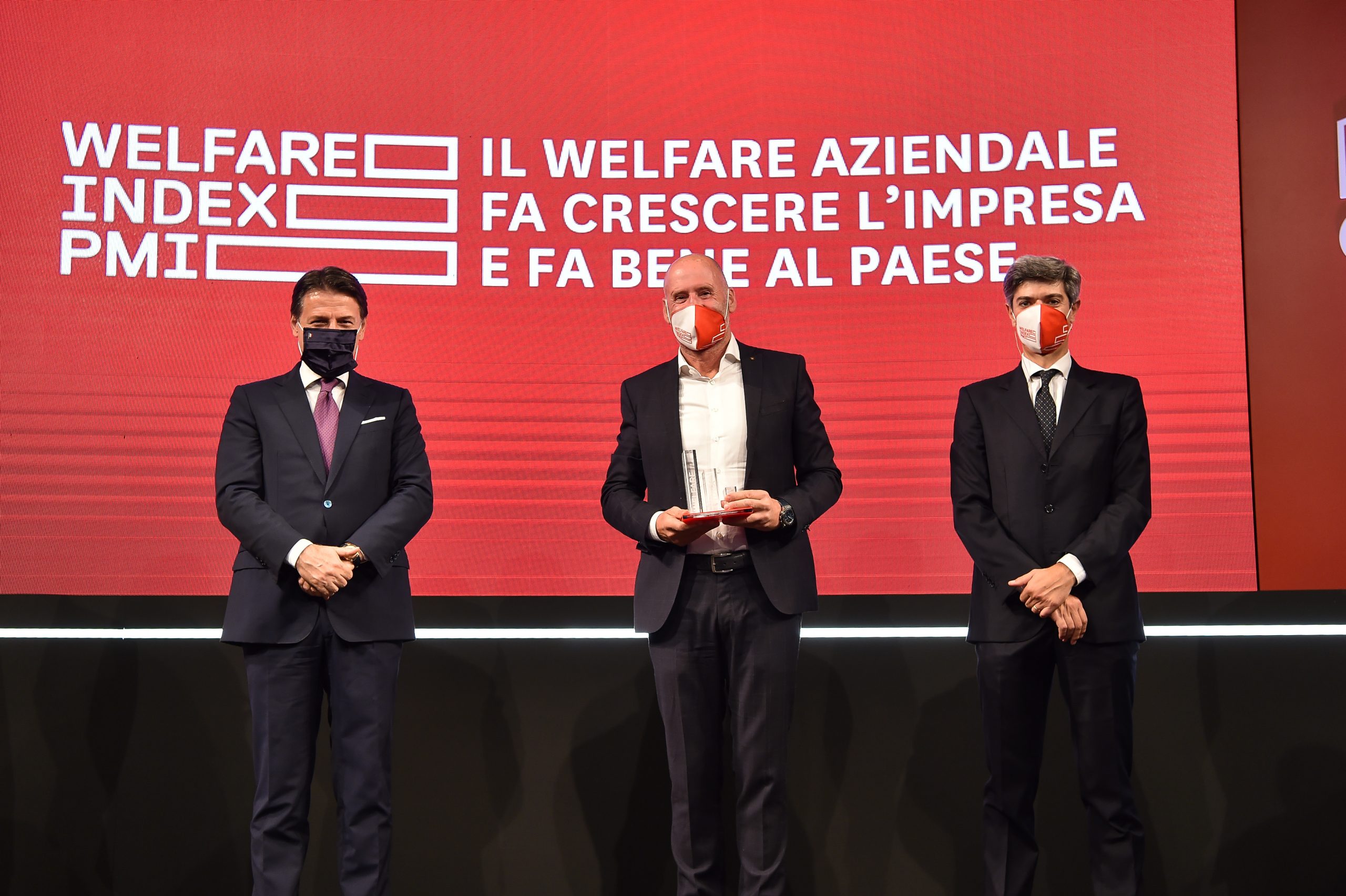 WELFARE INDEX PMI 2020
Best Ranking 5W confirmed due to excellent capacity to respond to COVID-19 pandemic and become a reference point for the entire community
From left to right: Giuseppe Conte (Prime Minister), Giorgio Donadoni (CEO Comac), Marco Sesana (Country Manager & Ceo Generali Italia and Global Business Line).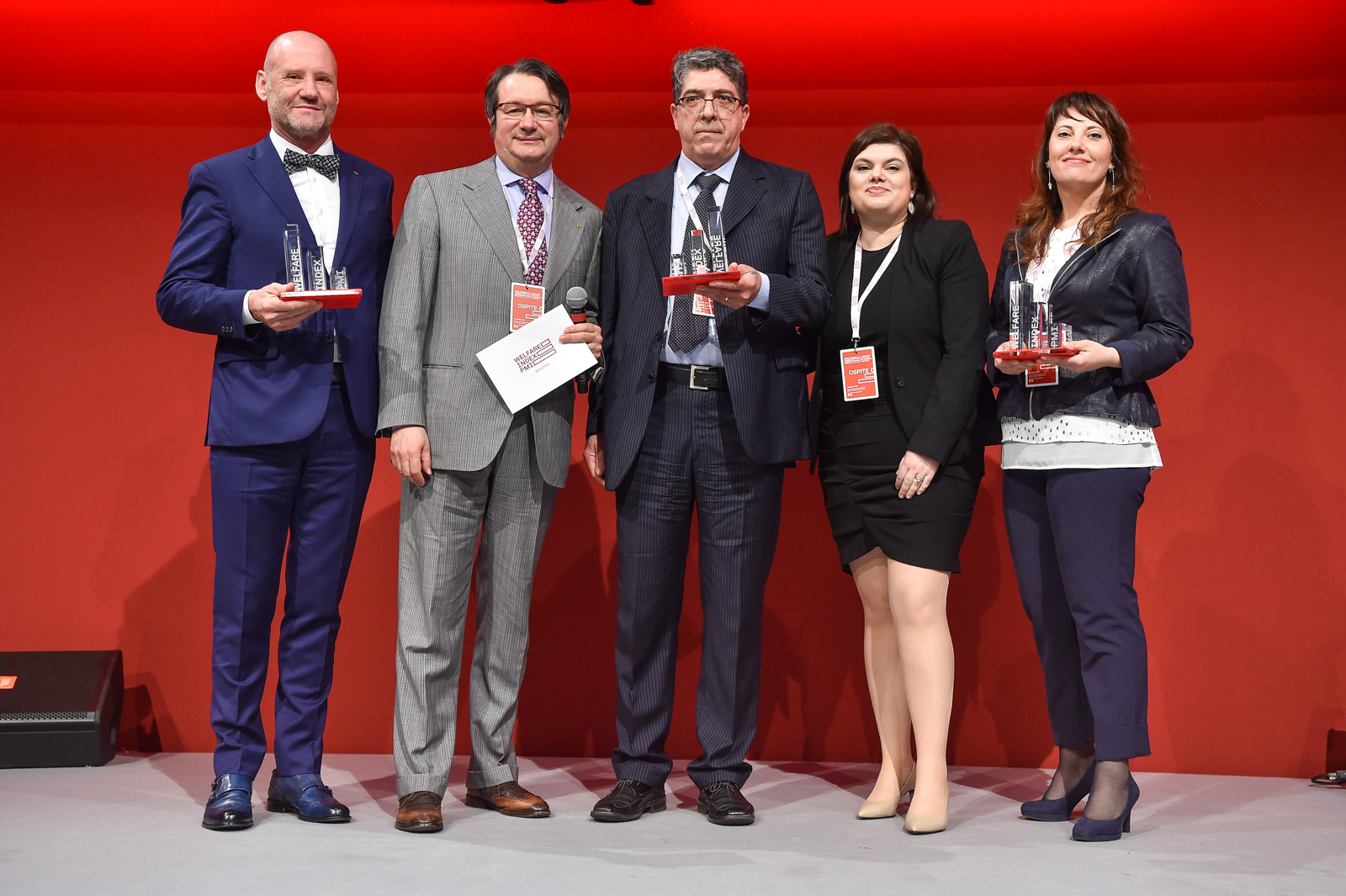 WELFARE INDEX PMI 2018 E 2019
Best ranking 5W
Ranked first for Industry sector – Awarded for "Operazione Salva Tempo" (Time-saving practices) – Wide range of services dedicated to increase employees' leisure time, from laundry service to inhouse fitness. Special attention dedicated to professional growth.
From left to right: Giorgio Donadoni (CEO Comac), Carlo Robiglio (Chairman PMI Confindustria) with other representatives awarded for industry sector.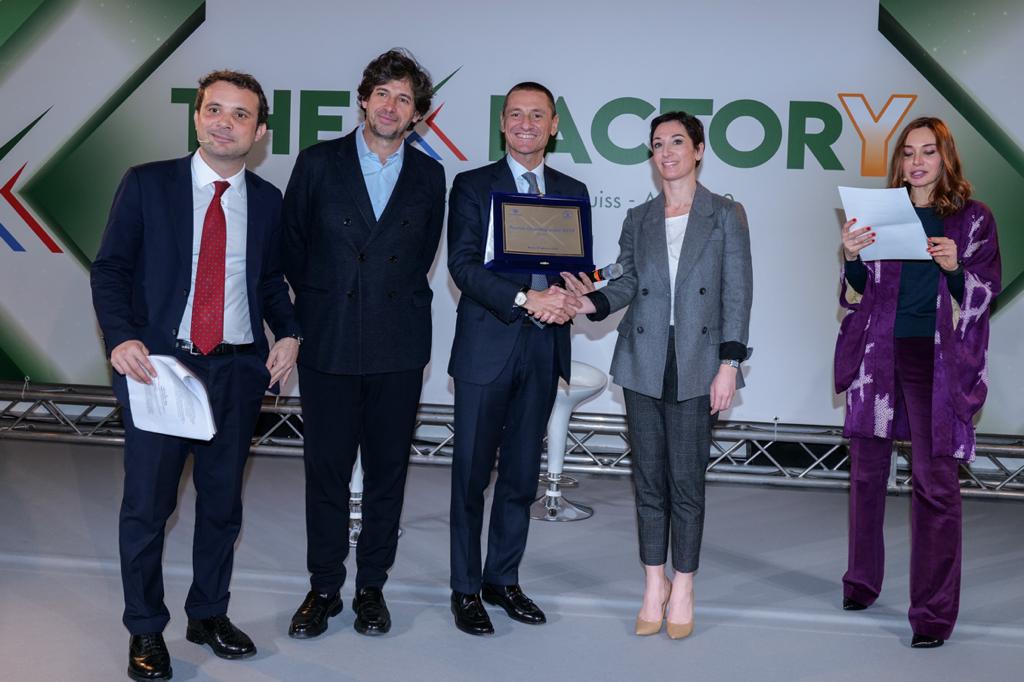 ORIENTAGIOVANI AND BAQ (MENTION FOR VOCATIONAL GUIDANCE PROGRAMS) – 2019
Award for the diverse vocational guidance activities (on-site visits, school lessons and practical exercises) Acknowledgement as an example for "structured partnership between companies and educational system"
From left to right: Demetrio Albertini (Former chairman of football player association) Giovanni Brugnoli (Deputy chairman for human capital for Confindustria) Giuliana Rossini (HR Manager).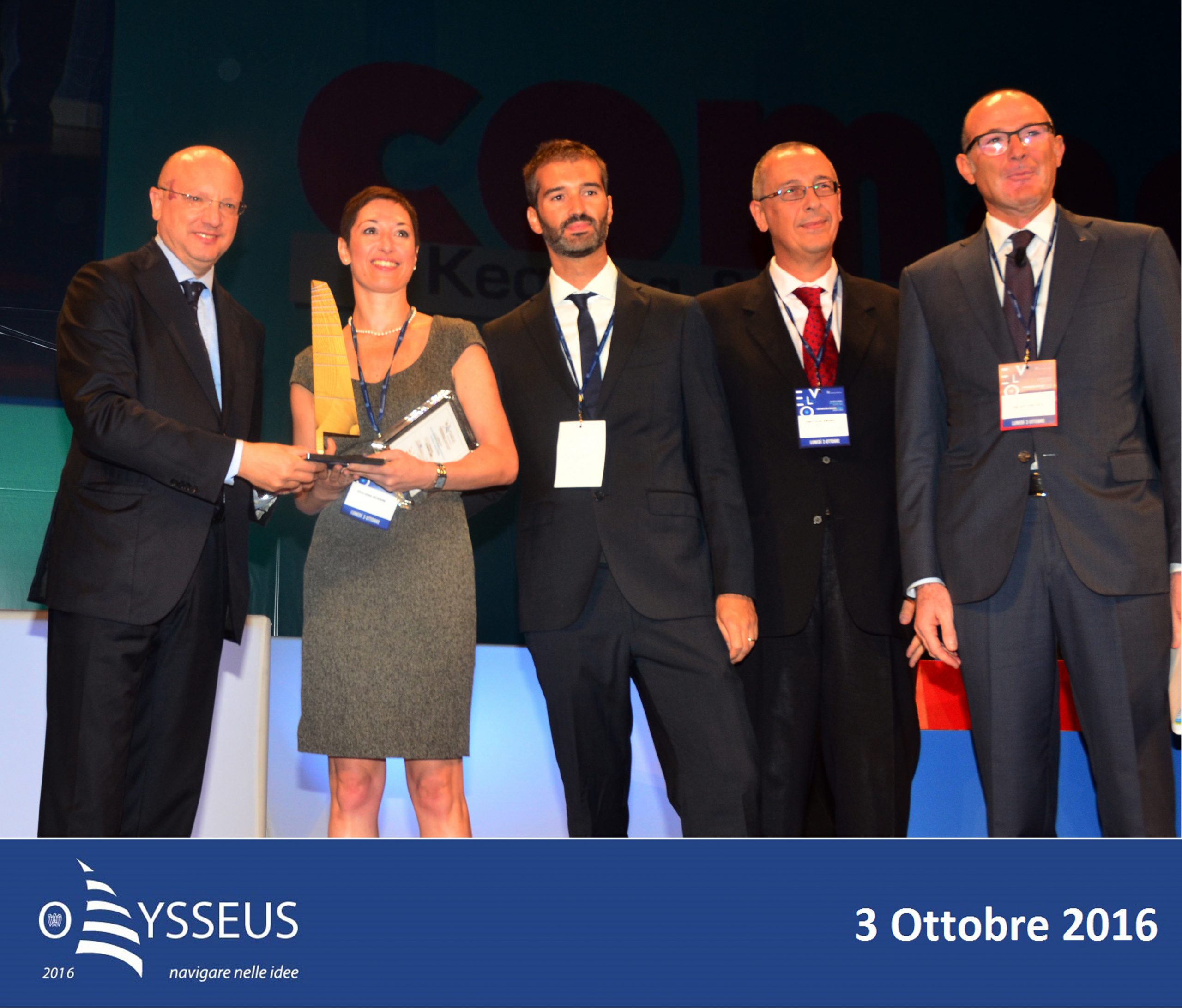 ODYSSEUS CONFINDUSTRIA BERGAMO 2016
Ranked first for Innovation and Company Welfare for the project "Smart Company: a holistic philosophy with human resources at the center of the company"
From left to right: Giuliana Rossini (HR Manager second from left) and Daniele Gotti (Operation Manager third from left), awarded from Vicenzo Boccia (Chairman for Confindustria), last on the right Ercole Galizzi (former chairman for Confindustria Bergamo).