The perfect solution for bottling any kind of beverage
Comac has been an automatic bottle filling machine manufacturer since 1990. We provide any kind of filling equipment, scalable and customizable to fit any industry size and need. We boast a thirty years long experience in the field of beverage packaging machinery, and we rely on a team of experts whose competence and passion will guide you through the best solutions for your business.
Comac automatic bottle filling machines and systems
Are you thinking of investing in a quality bottle filling machine?
Think Comac Group. We are a top notch company that adopts a wide range of technological innovations that are designed to solve bottling market challenges globally. We offer professionalism and expertise to every bottle filling machine customer who approaches us.
We offer a wide range of automatic bottle filling machines that are capable of packaging any bottle size and type, in particular glass bottles. If you want a unique filling machine that meets special technical requirements you can choose from the numerous bottling machines that we produce.
We produce fully automatic bottle filling machines that are divided in terms of production capacity: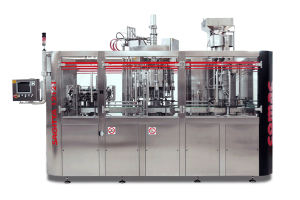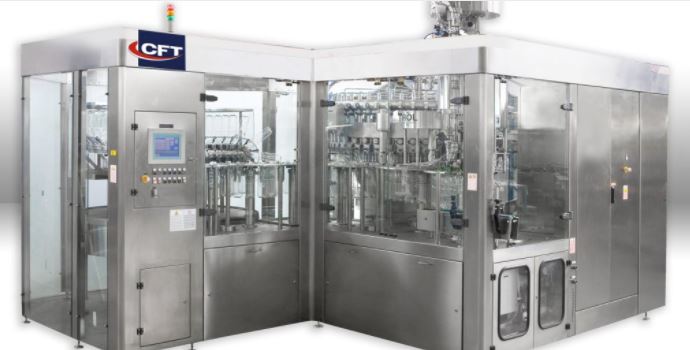 Beer bottle filling machines
Throughout our activity we developed a special expertise in the automatic beer bottling industry, supplying both small and big breweries with efficient plants to bottle beer in the most efficient and hygienic way. Our beer bottle filling machines are manufactured with specific features for the treatment of beer, such as the oxygen pick-up devices that are designed to minimize the oxidation of the product and monitor the oxygen levels during the entire filling process.
In addition, we produce a wide variety of ancillary machines such as pasteurization units to reduce the contaminants in the beer. Other machines and optional features are available to meet any requirement of the brewery.
Automatic water bottle filling systems
Our bottling lines can also fulfill any request of the water industry.
The main advantage of choosing Comac is our capability to offer tailor-made automatic bottle filling systems for plain or sparkling water, according to specific technical requirements. You can create complete bottled water production lines starting from the beginning and designing it to fit within the space available. During each step of the production, we make sure that the original characteristics of the water are not altered throughout the bottling process.
Our water bottling plants can also be easily adapted to the existing systems and integrated in the operating stream to rinse, fill and cap bottles of water.
Features of an automatic beverage filling machine
The automatic bottle filling machines used in the beverage industry should be of high quality and technology. The best machines have unique electro pneumatic filling valves featured with a special air pre-evacuation feature. The filling valves ensure flexibility when adjusting the filling system through acclimating vacuum filling time accordingly. These makes this kind of machine ideal for bottling soft drinks, wines, beer, sparkling drinks, carbonated drinks, soda and cider.
Our automatic bottle filling machines are equipped with a bottle auto detect device that is located on the conveyor. This device has a photocell that is programmed to stop the machine and the electro valves located in the rinsing mechanism if there is no bottle to be serviced. Moreover, they come with turret automatic height adjustment systems that detect and accommodate bottles with different heights. Hence the name automatic bottle filling machines.
Unlike other filling machines, automatic machines are designed using stainless steel materials. They are hygienic, rust resistant and easy to clean. In addition, they guarantee uniforme bottling and little to no faults that result from poor beverage bottling. Therefore, even if you own a small plant, or you plan to start one, consider an automatic bottle filling machine for easy and clean work.