Comac provides state-of-the-art water bottling plants and machines, scalable and customizable to fit any industry size and need. We boast a thirty years long experience in the field of beverage packaging, and we rely on a team of experts whose competence and passion will guide you through of the best solutions for your business.
A water bottling plant performs a complex process that requires a high standard of professionalism. When we speak about water bottling, in fact, many topics rise as far as hygiene, safety, and pollution are concerned: to grant the successful completion of the process, you have to choose only the best water bottling systems available on the market.
Here's what you will discover in this page:
Water bottling plants
The main advantage of choosing Comac is our capability to offer a tailor-made glass water bottling plant according to specific technical requirements. You can create complete bottled water production lines starting from the beginning and designing it to fit within the space available. During each step of the production, we make sure that the original characteristics of the water are not altered throughout the bottling process.
Our water bottling plants can also be easily adapted to the existing systems and integrated in the operating stream to rinse, fill and cap bottles of water.
Let's get more in details about water bottling machinery.
We supply three main kinds of automatic water bottle filling systems, all suitable for glass bottle filling:
Automatic systems up to 6,000 BPH
Automatic systems over 6,000 BPH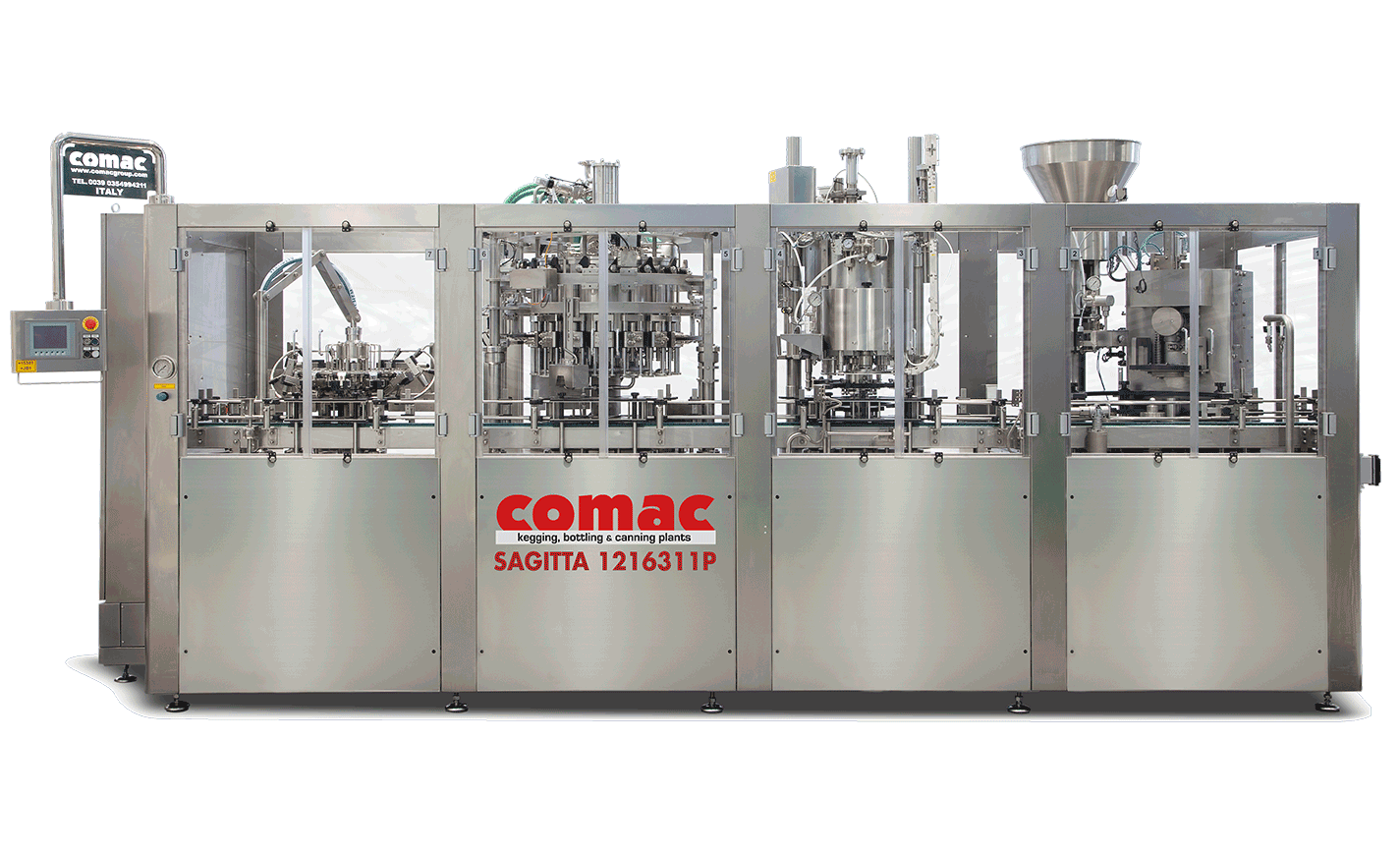 Bottling water: a machine for small activities
Many micro-activities need to fill up to 6,000 bottles/hour. They need machines that allow to cover the production requirements by automatically carrying out the rinsing, filling and bottle capping cycles.
The best model we suggest:
SAGITTA 12163P – Glass bottle filler with isobaric filler for glass bottles 4000 bph
All the water bottling plants can be completed with transport systems and ancillary equipments on the base of your need.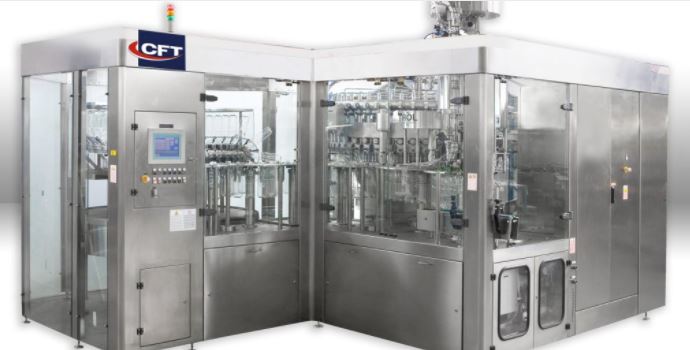 Bottling plant equipment for medium and big activities
These plants allow the bottling and capping over 6,000 bottles per hour. All are completely automatic and equipped with a control panel to check every step of the process. Comac's machines ensure high productivity while respecting hygiene and safety standards.
This type of plants has been developed and built by the CFT group.
Water bottling systems, filling lines and plants
As we have written above, our water bottling systems can also be integrated within the existing plants. In addition, you can accessorize them with a series of machines that carry out the whole water filling process.
Saturation unit – Made of AISI 304 stainless stell, its aim is to deaerate water and carbonate it through the direct injection of CO2. The CO2 amount is set by modulating valve, which provides several degrees of carbonation.
Premix unit – Deaeration and carbonation of water are also carried out by the premix unit, which is made of various components such as the deaeration tank, the syrup tank, the mixing water/syrup unit, the carbonation device and the stabilization/storage tank. There exist three types so to meet the specifications of small, medium and big-sized businesses: Premix 20000l/h, Premix 10000 l/h, Premix 5000 l/h.
Tunnel of heating and cooling – Made of stainless stell AISI 304, it brings the previously packaged drinks to room temperature. Allthe tanks that compose the machinery are equipped with doors on one side to allow the cleaning and periodic maintenance and with double panel filters, extractable from the pumps side.
Water bottling process
The process carried out by a water bottling plant includes three or four steps, depending on your decision to produce carbonated water or not:
Cleaning – Cleaning of the empty bottles is probably the most important step in a water bottling plant. The reason is simple, a proper cleaning is the only way to grant hygiene and safety to the water you are bottling. It would be a great mistake to sterilize water before the bottling, and then contaminate it just in the final process of the production! Therefore, choose only the best providers as far as cleaning machines are concerned. Quality machines are made only with the best materials, resistant to rust and corrosion, and can be sanitized whenever you need.
Filling – Filling the bottles with water is obviously the aim of any water bottling plant. This process is quite simple: the bottles are grabbed by some grippers, while the above nozzles pour the water into them. If you choose to bottle your water into glass only, you would better focus on a machine specifically designed for glass bottles; on the other hand, the same suggestion can be made if you fill the water in PET bottles only. In case you choose, instead, to produce both glass and PET water bottles, you can rely on a machine that supports both of them.
Saturating – This process is included in a water bottling plant only if you have to produce carbonated water. You need, then, a saturation unit that dearates the water and carbonates it with a device that directly injects the CO2 into the liquid.
Capping – It is the final step performed by a water bottling plant. The bottles are moved up to a capping machine that provides each of them with a cap and seal the water into protected atmosphere. After the capping, your water is ready to be put on the market and sold locally or on a higher scale.
Water bottling machine manufacturers: why choose Comac
Since 1990 we have been manufacturing water bottling machines for activities of any size all over the world, even in far-away countries like the US.
In fact, our plants have some features that turn them into a good investment that helps you solve productivity problems for what concerns water filling – all Comac water bottling plants are:
Manufactured with stainless steel AISI 304, a special alloy that features a high resistance to acid materials, rust and corrosion, granting the best level of hygiene and endurance
Compact, versatile and easy to install in small spaces
Customizable according to your needs