9 June 2022
Wine packaging process: how it works and what solutions to choose
Wine packaging process is quite delicate as it must carefully preserve all the organoleptic qualities of the product. What solutions to choose to succeed?
What solutions to choose for wine packaging? This beverage is prepared following a very accurate process that brings out its taste and all its qualities to the fullest. Let's see more details about thewine packaging process and the main solutions that can be adopted.
In this article:
Wine packaging process: keg or bottle?
Although the most widespread wine packaging process is the one in glass bottles, the keg method is also becoming increasingly popular: in fact, the number of places where it is possible to taste wines on tap is growing, with a wide choice of quality products.
Another very interesting trend in recent years is wine in cans, especially for sparkling varieties, but not only: we will talk about it extensively in one of the next articles on this blog.
Tendentially, bottled wine is the one preferred because the bottle allows perfect aging over the years and consequently results in a flavor that greatly enhances the product, due to the perfect harmonization of all its components.
But how is wine bottled?
There are three main steps in wine bottling process:
rinsing: bottles are sanitized by rinsing with water or other disinfectant solutions;
filling: once sterilized, bottles are filled with wine, taking great care to keep the quality of the product intact;
corking: lastly, the process is concluded by capping the bottles.
However, the stainless steel keg also has its advantages, in fact:
is durable and safe;
is washable and reusable with a life cycle with no expiration date;
is perfectly capable of preserving all wine properties;
How does the wine brewing process take place?
With regard to keg filling, there is an initial preparation phase involving three main steps:
prewashing
washing
sterilization
Once this thorough washing cycle has been completed, the wine is packaged in stainless steel kegs, the best material from the point of view of hygienic safety.
Finally, Comac also offers machines for packaging wine in cans, a mode that is becoming increasingly popular, especially for sparkling wine.
In this way it is possible to provide customers not only with a wider and more versatile offer but also with a reliable one, thanks to the high technological level of these machines that thus ensure the perfect preservation of wine and all its characteristics.
Comac bottling machines for wine packaging
Comac offers several efficient, complete and safe automatic bottling line solutions for the wine packaging process. Let's look at a few bottling machine models.
Sagitta 12-12-1P
It is an isobaric monoblock with a production capacity of 3,000 bottles per hour, a perfect solution for low/medium capacity lines. Perfectly capable of rinsing, filling, and finally capping glass bottles, Sagitta 12-12-1 P is based on back-pressure filling technology, which is suitable for filling smooth and carbonated beverages, so it is also excellent for winepackaging, both still and sparkling.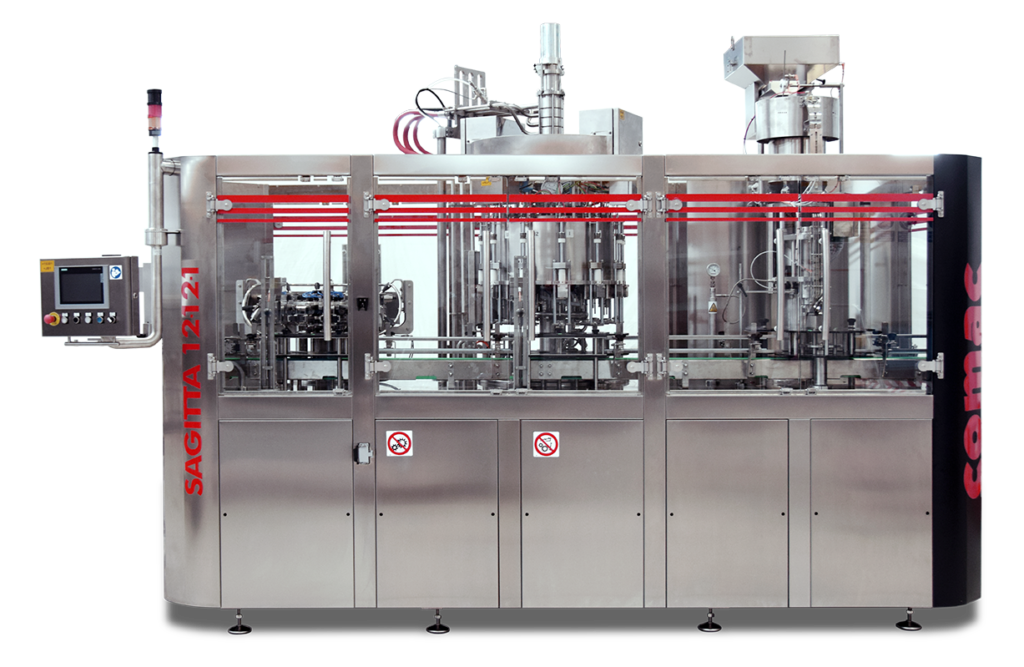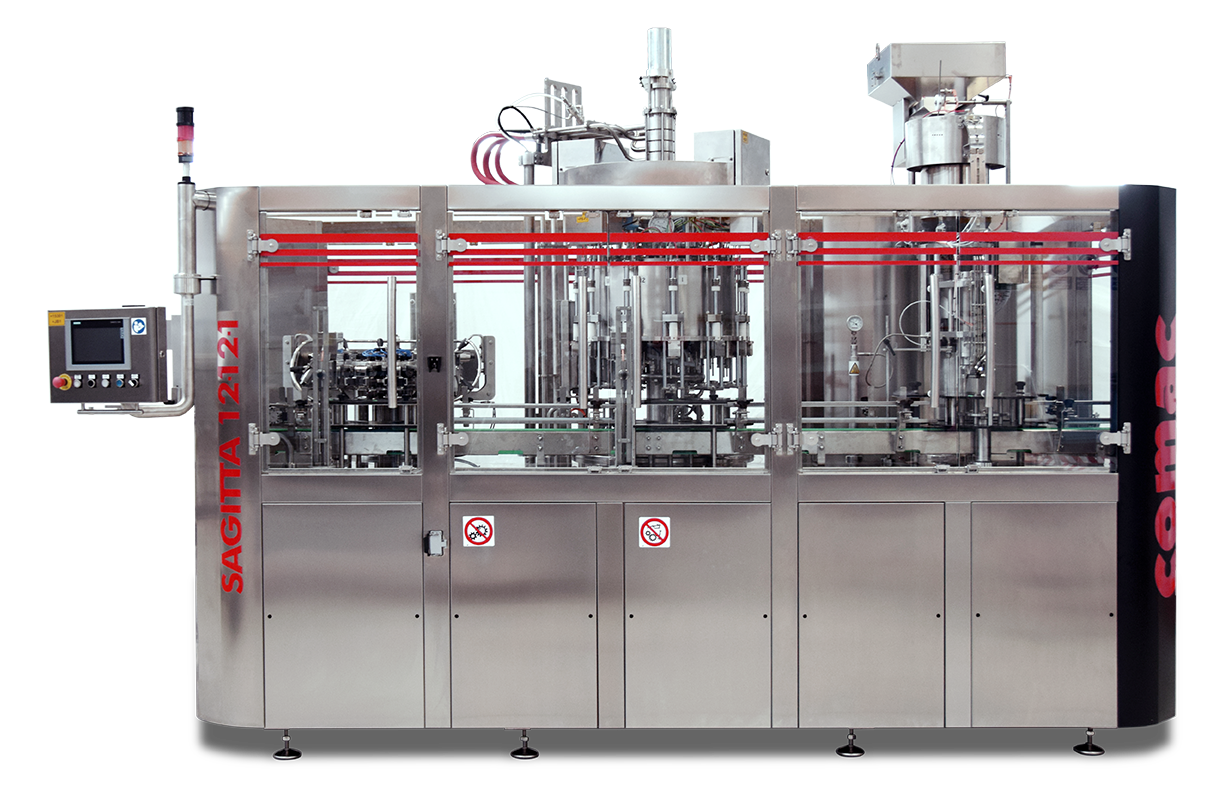 Sagitta 20-20-3 P
This bottling machine too is perfect for carrying out the wine packaging process, both still and sparkling. With a production capacity of 6,000 bottles per hour, Sagitta 20-20-3 P allows optimal control of all filling parameters, namely:
flushing with inert gas;
bottled vacuum execution;
pressurization;
filling;
decompression.
Moreover, thanks to this machine, dedicated recipes can be set according to different types of products, including wine, which can be adjusted and selected from the HMI.
Learn more about Comac bottling machines!
Comac machines for wine kegging
As we have seen, the keg too is a great solution for the wine packaging process. So let's take a look at some of the best keg filling machines offered by Comac.
Smart Kegging Machine K1 and K2
The semi-automatic wine kegging machines Smart Kegging Machine K1 and K2 are perfect for meeting the production capacity of small and medium-sized enterprises, in fact they are capable of washing and filling 15 to 18 kegs per hour and 30 to 36 kegs/hour, respectively, depending on the keg capacity and washing cycle.
These filling machines are suitable for wine and other beverages packaging and include a washing/filling head in the case of the K1 model, or a washing and filling head in the K2 model, and up to three tanks for storing washing solutions.
Picture: Smart Kegging Machine K1
Comac automatic kegging machines
The range of kegging machines offered by Comac includes several models capable of automatically performing the entire washing and filling cycle, covering a production range from a minimum of 50 to a maximum of 90 kegs per hour. 
Technology and components used for this type of plant are the same as those used in high production lines for kegs. Indeed, they ensure maximum hygienic safety, require little maintenance, and the components are readily available on the market for possible replacement.
Picture: Bologna K52
Learn more about Comac filling machines!
Some of Comac successes for wine packaging
The great versatility and quality of the wine packaging lines have enabled Comac to gain great appreciation in Italy and around the world, receiving very positive feedback from our customers.
These include Free Flow Wines in 2020 and Casa Vinicola Zaramella in March 2022.
Free Flow Wines is a young Californian company founded with the goal of providing quality wine on tap, while also paying close attention to environmental sustainability.
Comac designed and built the perfect kegging line for their needs, equipped with two filling machines. The line includes a number of standard machines, but also customizations designed to the customer's needs: for example, the separation of the two filling lines, which makes it possible to fill kegs with two different products at the same time and thus optimize production time.
Results have been excellent, managing to combine high production capacity with excellent wine quality.
Instead, the experience with Casa Vinicola Zaramella, headquartered in the province of Padua, dates back to the beginning of this year.
To meet its production needs, Zaramella chose to install a Comac VERONA K51 – 5 +1T line.
The production line proved to be efficient and left customers satisfied also thanks to the commitment, kindness and professionalism shown by the entire team involved in the project.
Need help finding the right solution for your wine packaging process?