19 October 2020
Freshness meets sustainability – Comac kegging system for Free Flow Wines
Free Flow Wines, the Californian start-up that already boasts an impressive production capacity, chose the reliability and precision of Comac kegging systems to reach its goals: supplying high quality wine on tap, while focusing on environmental sustainability. Here are the machines we chose to create a highly efficient kegging system.
Photo credits: Free Flow Wines
Established in 2009, Free Flow Wines offers wine-focused and eco-sustainable wine kegging and canning outsourcing services.
Today, it supplies more than 250 wine brands from wineries throughout North America, South America, New Zealand, Australia and Europe. Free Flow Premium kegged and canned wines are now served in restaurants, hotels, stores and entertainment venues across the United States every day.
Comac has helped the company provide high-level service by a state-of-the-art kegging plant, tailored to their needs.
Let's take a closer look at this project.
The customer goal: high quality kegged wine
We were immediately on the same page as the customer: its mission, in fact, is to distribute high-quality wine on tap, fully optimizing production and, above all, respecting the environment (a value we also hold dear).
Free Flow Wines' strategy is based on three fundamental principles:
Sustainability – If correctly sanitized, a keg can be reused countless times, thus eliminating tons of waste.
Product freshness – Much more than an open bottle in contact with air, wine is perfectly preserved in a keg, glass after glass.
Product cost- Eliminating packaging provides significant savings to both producer and end consumer.
Taking these principles on board, Comac started designing the best solution.
Machines chosen to create the kegging system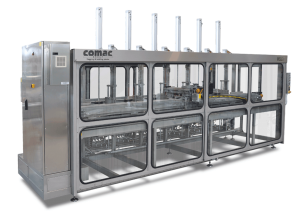 Keg line complete with:
2 5+2T model washers/fillers
5 washing tanks;
Ink-jet encoders;
1 palletizing robot that also applies the collar and cap;
Keg and pallet conveyors;
2 buffer tanks;
3-tank CIP system.
In addition to selecting some standard machines from the Comac range, our designers also customized the system by creating two separate filling lines, so that the customer is able to keg two different products at the same time.
Results achieved with Comac kegging system
This partnership allowed the customer to achieve its goals. The keg line works perfectly with extremely high production capacity (supplying over 250 brands of wines is certainly not a trivial matter!).
With the certainty of counting on impeccable service, Free Flow Wines is still advertising its #wineontap and #winebytheglass on various channels, focusing heavily on sustainability and quality.
Do you have a similar business and would like a tailor-made solution for you? Tell us your goals.
Contact Comac to have your kegging system designed to reach new heights of productivity, maintaining the quality of your wine from the first glass to the last.