Are you looking for a professional beer bottling line? Comac Group supplies breweries of any size with modular, streamlined bottling lines and machines. High quality materials, customized features, ancillary machines and compact size: these are just some of the qualities that made our products popular worldwide. Discover more.
A beer bottling line is a great investment to package your beer in a professional way. When packaged properly, beer can last much longer and its original flavor is preserved up to the moment the bottle is opened. But you probably already know that.
What you may be wondering about is: can a small microbrewery afford a professional beer bottling line?
The answer is yes. Comac Group developed a range of beer bottling lines and machines scaled to fit to any production size. From compact machines to industrial-size plants, we have the right solution for any kind of brewery. Let's discover them.
Beer bottling line for small breweries
If you are a small brewery or a microbrewery, you can add to your production line a compact machine for bottling and capping. Our machines require minimum space and yet they guarantee professional results, time savings and reduction of product waste. They are manufactured with high quality materials such as AISI 304 stainless steel, an alloy that prevents rust, corrosion and contamination, and lasts for years.
Plus, our bottling machines are equipped with a system for the oxygen pick up, an important process in beer production as it guarantees the excellence of flavor over time.
All the machines are fully automatic.
In the picture below you can take a look at our SAGITTA 12-12-1 P bottling machine, a solution with a production capacity up to 6,000 bottles per hour.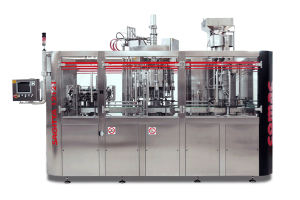 To medium-size breweries we offer both compact machines and more complex beer bottling lines. They are manufactured with the same high-quality features of the solutions for small breweries, only brought to a bigger scale. They are fully automatic and designed to carry out the rinsing, filling and capping of beer bottles, plus the oxygen pick up.
Some examples?
In the pictures below, you can take a look at the SAGITTA 12-16-3 P and the SAGITTA 20-20-3 P lines, designed to process up to 4,000 bottles per hour.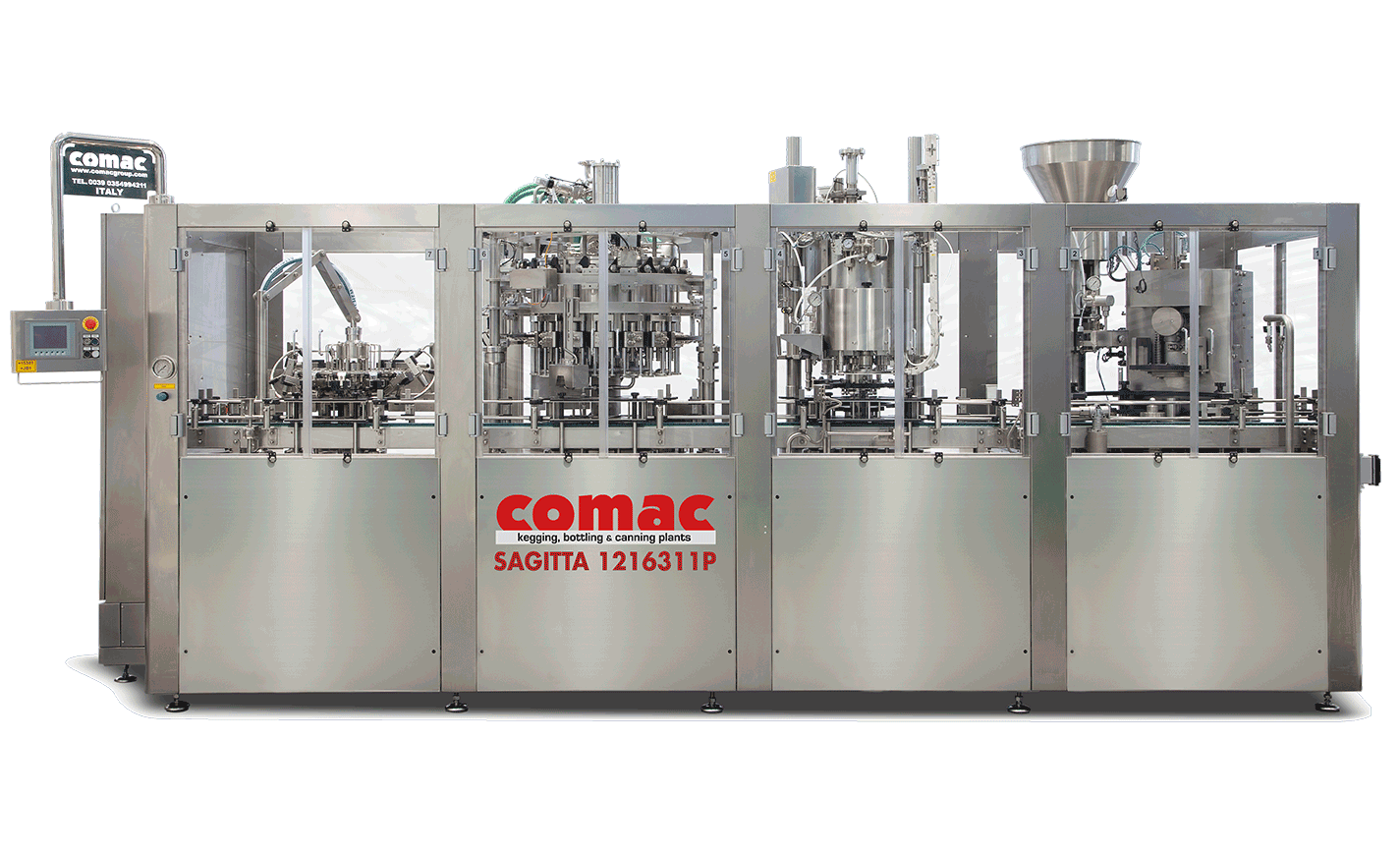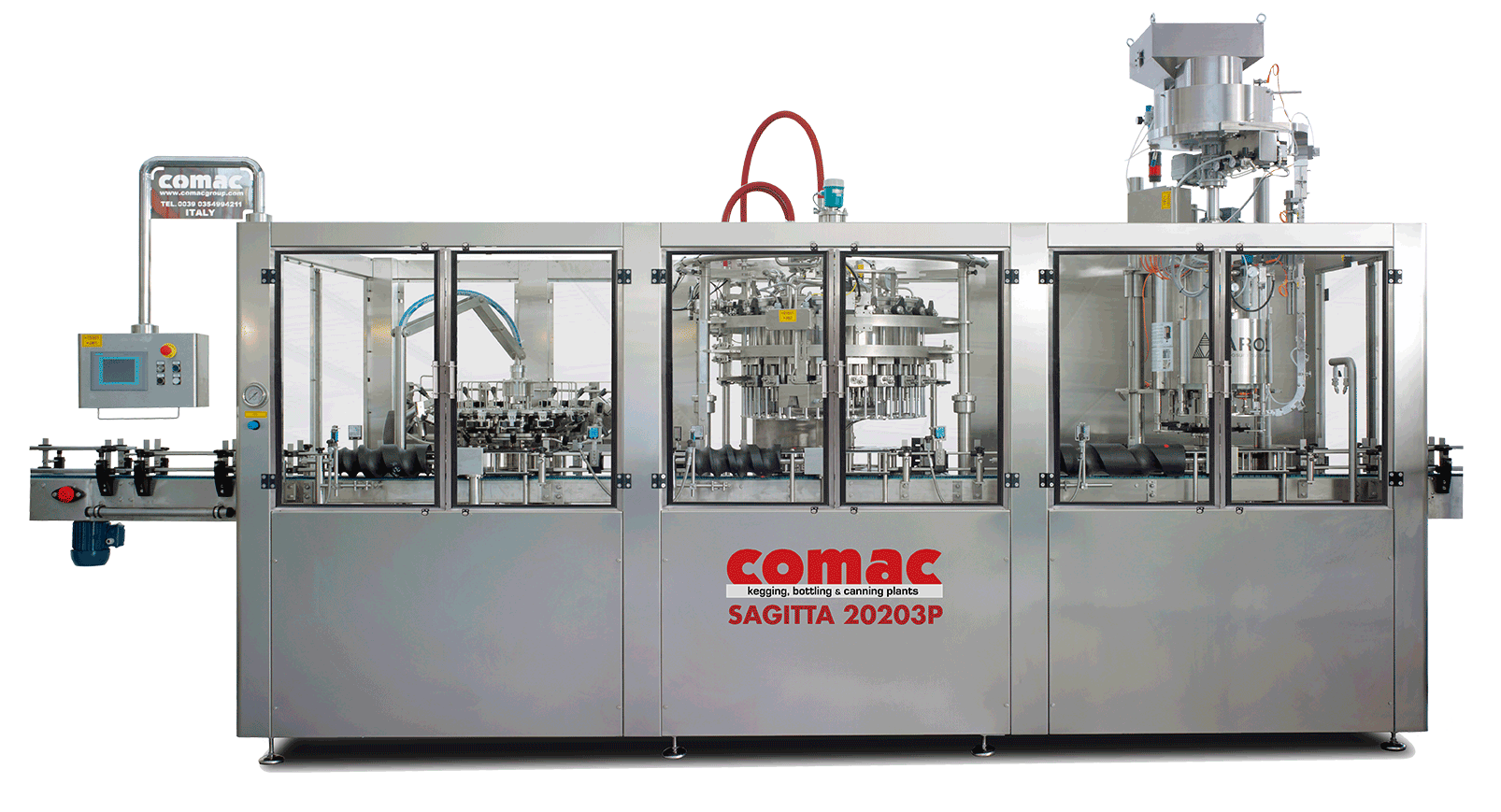 Beer bottling line for industrial breweries
Comac Group has been producing beer bottling lines and plants for big companies since 2005, when the Heineken Group purchased some of our cutting-edge solutions. Since then, our bottling supplies have been trusted by many important players, such as Coca-Cola, Bavaria, Carlsberg, SABMiller, Mahou San Miguel, Miller Coors, Baltic and many others.
The lines can be completely customized in order to fit to the specific requirements of the customer. Ancillary machines such as saturation units, premix units, pasteurization tunnels, heating-cooling tunnels can be easily integrated into the bottling line to provide additional services.
In the picture below, you can take a look at the MASTER G TECH model designed to process from 3,000 up to 80.000 beer bottles per hour.