Comac is an Italian company that manufactures beer bottle fillers such as automatic systems for processing and packaging the beer in bottles of any size.
Comac's investment on research and development activities has led to the creation of new technological solutions for beer bottle fillers. Among them, we can find new electronic filling valves for the bottling industry or some electro-pneumatic filling valves with a special air pre-evacuation feature.
Comac's beer bottle fillers models
Comac has developed different kinds of highly technological automated beer bottle fillers in order to satisfy the most various needs. The aim is to package any size and type of beer bottle, especially glass ones. Here's the range of Comac's beer bottle fillers.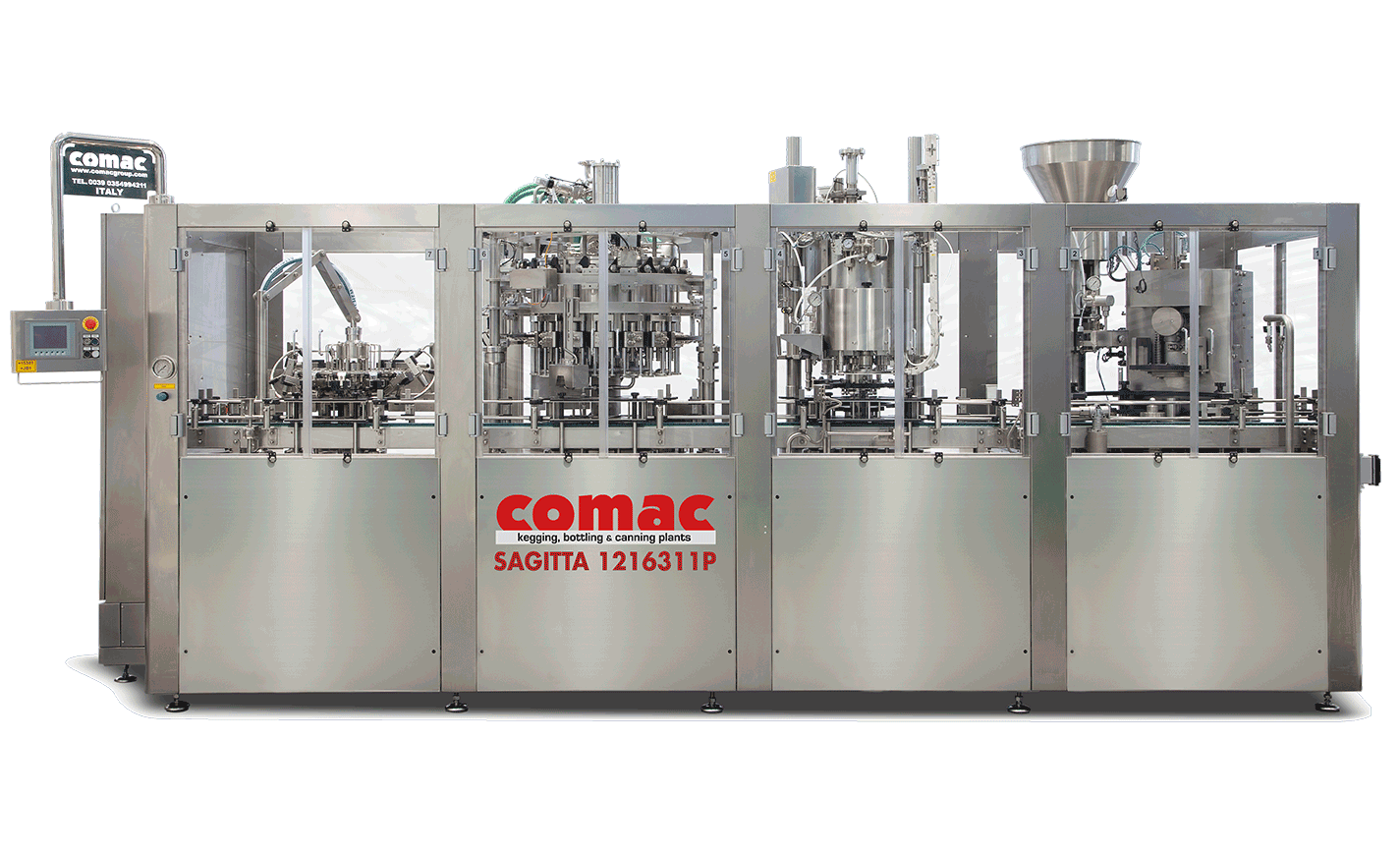 Automatic beer bottle filler up to 6.000 bottles per hour
Sagitta 12-16-3 P is an isobaric monoblock based on back-pressure filling technology, suitable for filling carbonated and still beverages. This beer bottle filler has been designed for small and medium business, combining productivity and flexibility. Compact in size, easy to use, hygienic and efficient, this unit will take production to a professional level.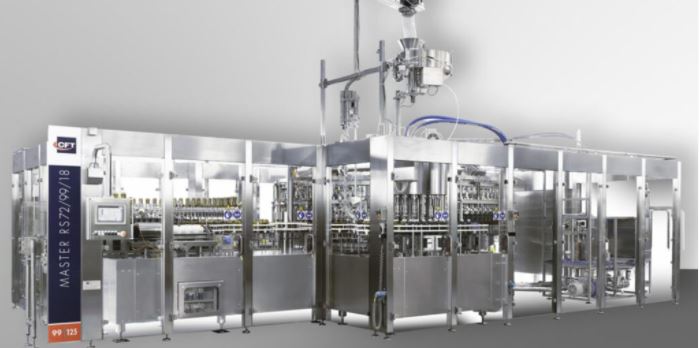 Automatic beer bottle filler for over 6.000 bottles per hour
Master RS Glass/PET is an automatic beer bottle filler designed for bigger activities, in fact it can reach 90,000 BPH/hour. This machine offers excellent performance in terms of filling accuracy, product treatment and oxygen content control and is very reliable in terms of hygiene.
Features of a beer bottle filler
A beer bottle filler features a series of characteristics that are necessary to properly bottle beer and other drinks, and a technology that Comac has been studying and developing for more than twenty years in order to always deliver up-do-date machines.
An automatic beer bottle filler is equipped with a bottle auto detect located on the conveyor. If there is no bottle in the machine, a photocell stops the machine and the electro valves, while a turret automatic height adjustment system accommodates bottles with different height.
Why choose Comac for automatic bottle fillers
Since 1990 Comac has been developing and producing technological types of beer bottle filler to solve bottling market problems and challenges. Here are the main qualities that make Comac the right choice for your company.
Flexibility
Comac bottle fillers have been designed to rinse, fill and cap any type of bottle, for any type of liquid product. Beer is the most common product for this type of machines, but it is possible to also bottle other beverages like wine, water, soft drinks, juices and other alcoholic beverages, in both PET and glass bottles.
Customization
Comac's customers are all over the world: from small micro-breweries to larger industries, such as Heineken, Carlsberg, and many more.
Comac's beer bottle filling machines are available in different models to fit any type of production. There are systems for filling 700 to 4,000 bottles per hour up to plants with a processing capacity of up to 12,000 BPH. In addition, each of the bottle fillers can be customized to meet the needs of each individual customer.
Hygiene
Comac knows that hygiene is one of the most important qualities in the production and filling of bottles of any kind. For this reason, Comac beer bottle fillers are made only with the best materials, such as stainless steel AISI 304.
The quality of the materials is the secret of the high level of hygiene ensured by Comac plants, which can last longer without corrosion and rust. In addition, each of the bottle fillers is equipped with an automatic devicedesigned to clean the filling valves, avoiding any risk of contamination during the process.
Control
All Comac bottle fillers are equipped with a control panel that permits to check the process at a glance, at any time. The rinsing system includes a device that stops spraying if there is no bottle in the line. A similar no-bottle-no fill device is mounted on the bottle filling system to avoid any product loss.
Reliability
Thanks to Comac's 20 years of experience and its commitment to always improve its machines and products, all the bottle fillers on the market are very reliable and fast. One of the secrets of Comac's reliability are people: their experience, passion and competence are the best allies to understand customers' needs and propose the best product to satisfy them.