Tunnel pasteurizer
Overview
Tunnel pasteurizer unit, available in different sizes, for the pasteurization of the already packaged product.
The unit consists of a stainless steel AISI 304 solid structure that is subjected to an abrasive blasting and protective coating.
Inside are anchored the tanks that feed the upper showers and outside are positioned all the instruments of command and control of both the mechanical cycle and the temperature.
Inside the machine, the bottles and the cans lie on a plastic chain and, thanks to an external gear motor, go forward in the various sections encountering the upper showers, at different temperatures, until reaching the exit. The feed rate of the bottles and cans can be set from an operating panel that allows to vary the duration of the cycle.
Such a cycle has been designed to ensure a saving of cooling water and it has been set by appropriate instrumentation that keeps the water temperature in the tanks constant.
All tanks are equipped with doors on one side to allow the cleaning and periodic maintenance of the unit  and with double panel filters, extractable from the pumps side.
The doors, made of tempered glass, installed on the entry and exit sides of the machine, allow the manual removal of any containers remained on the bearing surface at the end of work.
The machine is equipped with an automatic system, applied to the pasteurization areas, which allows to avoid the over-pasteurization of the product in case of stop of the internal conveyor.
The stainless steel electrical panel is provided with an operator panel that allows to verify and set all the control parameters of the machine and with an electronic chart recorder that stores the values of all the variables that control the phases of pasteurization.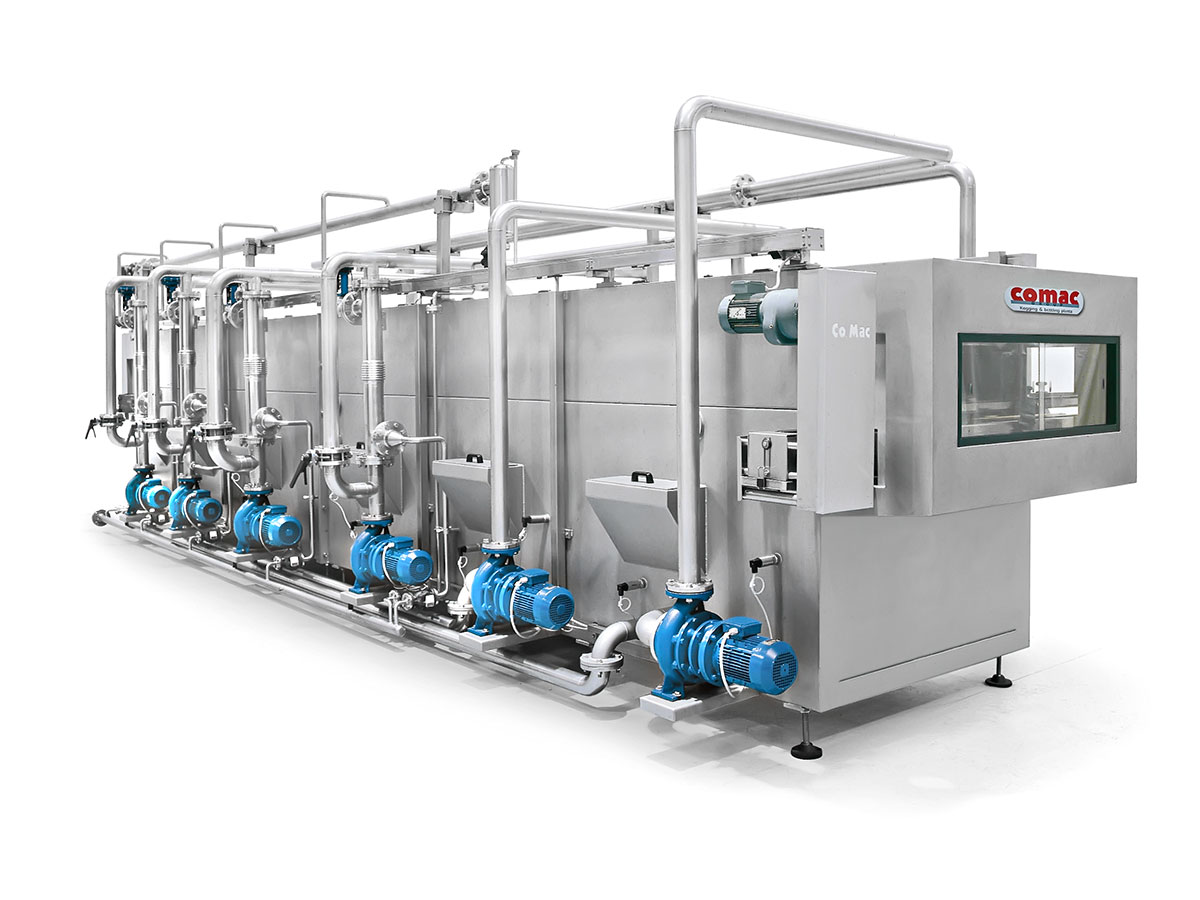 Advantages
Automation and control function
Plant customization and configuration upon customer request
Pilot plant for product testing and simulation to achieve correct cycle on each different and non-standard product
Bottle and can feeding frequency can be set from an operator panel to vary the duration of the production cycle
Products
Beer
Alcoholic and soft drinks
Fruit juices
Isotonic/sports drinks
Energy drinks
Ice teas
Formats
Cans
Glass bottles
PET bottles