1 August 2022
Tailor-made filling systems: with Comac, it's all possible
Are you looking for customized filling systems for your company? Comac allows you to customize your beverage packaging line, meeting each and every requirement!
In this article we will see:
Filling systems by Comac
Comac is a leading company in the beverage of bottling, canning, and kegging field.
Our assortment of machines and plants includes several models covering a wide manufacturing range. Besides, Comac also offers the possibility to design and manufacture customized filling systems that are high-performing and high-quality, to better fulfill any requirement.
Comac guarantees packaging and processing plants for different types of beverages, such as:
soft drinks and ready to drink cocktails;
still and/or sparkling water;
wine.
Below, some features of each type of packaging:
Bottle lines: Comac offers filling systems for glass bottles.
According to the customer's technical specifications, changes to each one of our models can be implemented.
Plants are all automatic and cover the following production capacities:
up to 6,000 bottles/hour;
over 6,000 bottles/hour and up to 90,000 bottles/hour (in collaboration with CFT Group, which also offers PET bottling solutions).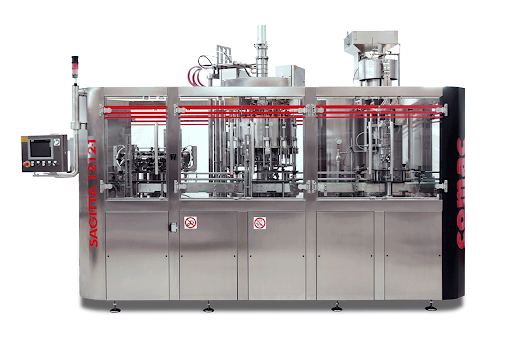 Picture: Sagitta 12-12-1 P
Find out more about bottling systems from Comac!
Can lines: canning systems from Comac are automatic and can process cans of any format in aluminum, steel, and tinplate.
Even in this case, you can opt for customized plants, choosing among the different solutions available in Comac range.
Our liquid filling machines are able to guarantee the following production capacities:
from 3,000 cans/hour up to 12,000 cans/hour;
over 12,000 cans/hour and up to 70,000 cans/hour (in collaboration with CFT Group).
Picture: Pegasus 8-1 V2
Find out more about canning systems from Comac!
Keg lines: as for keg packaging, instead, Comac offers a range of automatic and semi-automatic machines that process stainless steel and PET one-way kegs.
Specifically, our keg machines are divided into:
semi-automatic, for productions up to 40 kegs/hour;
automatic, for productions ranging from 40 to 250 kegs/hour;
automatic, for productions from 250 to 1,000 kegs/hour.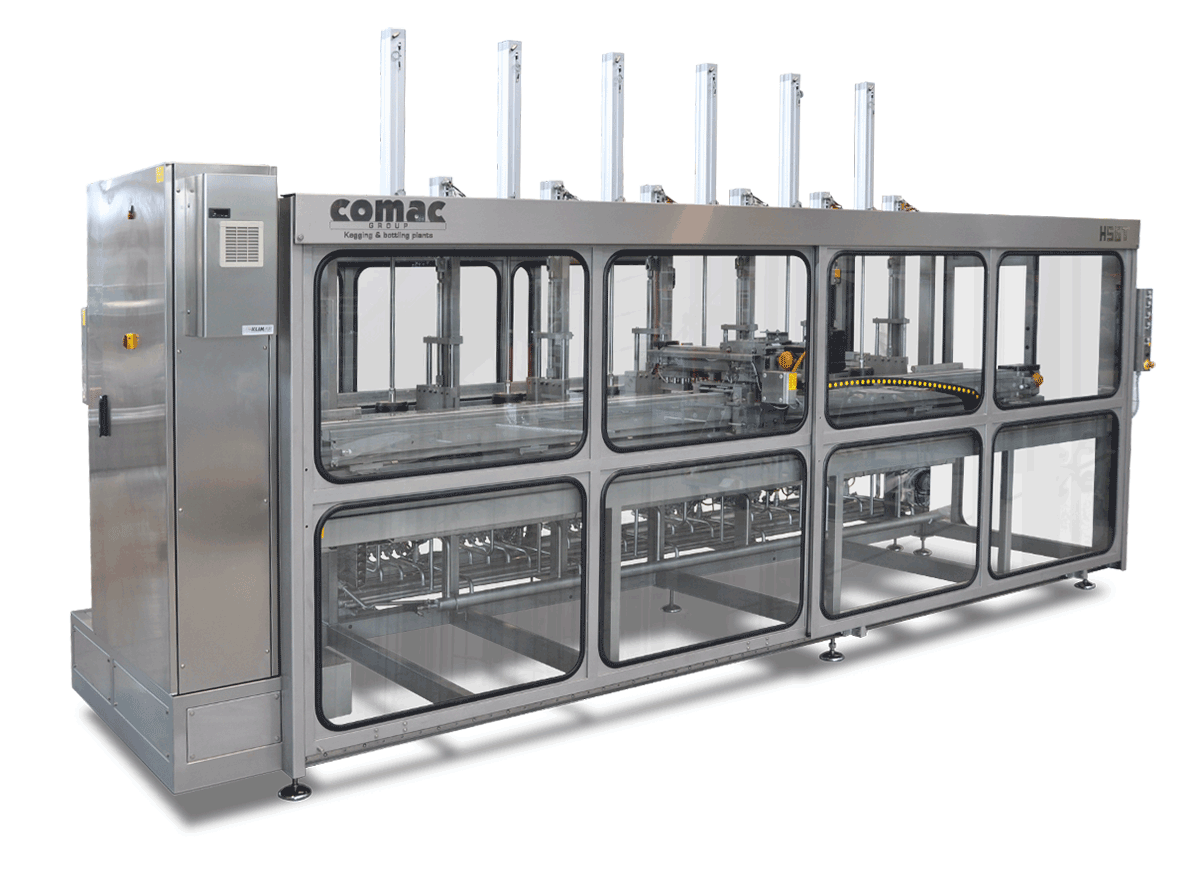 Picture: BERGAMO HS6T
Find out more about kegging systems from Comac!
Obtaining a customized filling system
Thanks to our experienced technical and sales staff, Comac is able to design and offer completely customized solutions to meet every technical and production requirement.
Specifically, the manufacturing process of a custom-made filling system follows three main stages:
Custom design – Firstly, a feasibility study is carried out by ourtechnical team. Secondly, layouts and a commercial proposal, with a technical description, are submitted. Constant contact with the customer speeds up the entire process.
Manufacturing – Following the project approval, manufacturing is the next step, carried out by a skilled team resorting to high-quality technologies and raw materials;
Delivery and on-site assembly – Once the manufacturing is achieved, our specialists take care of the final steps of delivery, assembly, and installation at the customer's premises.
Versatility and innovation: a successful case in Japan
Among the main qualities that make Comac a leader in the manufacturing of customized filling systems, flexibility and dynamism play an important role.
One of the latest successful and worth-mentioning cases is the supply of a complete canning line for Ise Kadoya Brewery, in the city of Ise, Japan. The project was accomplished during the difficult Covid-19 lockdown.
Due to an advanced remote assistance system, Comac was able to launch and test the entire filling system completely from a distance, verify the plant's functioning, and make real-time adjustments and updates.
Our Service and After-Sales team is moreover available 24 hours a day, Monday through Saturday – also remotely – to promptly solve technical issues while minimizing production downtimes. Supplying spare parts is always available, if needed.
Find out more about customized filling systems from Comac!