25 August 2014
Monoblock bottling machine: the advantages of a versatile and compact system
Complete and high-performance monoblock bottling machines are the best solutions for rinsing, filling and capping beverage bottles. Find out why!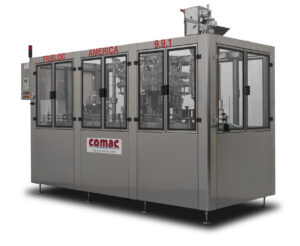 An overview of the monoblock bottling machines
Monoblock bottling machines are ideal systems for rinsing, filling and capping beverage bottles made from glass or PET.
In particular, there are different families of monoblock bottling machines: the first is specifically designed for glass bottles of different sizes (like our 12-12-1 model isobaric monoblock machine), while the second is designed for both glass and PET bottles (such as the 30-30-6 model).
Both monoblock bottling machines fall within the category of automated bottling systems, and are designed to simplify and accelerate bottling operations for companies that need to fill medium to large quantities of bottles per hour.
Depending on the model, they can be equipped with different rinsing, filling and capping systems. Therefore, by offering three functions in one, these complete bottling lines are capable of providing truly unique advantages with respect to other types of filling systems.
What are the advantages of monoblock bottling machines?
For one, monoblock bottling machines are compact: this allows the client to optimize their available space.
For example, this 12-12-1 isobaric monoblock bottling machine for glass bottles is equipped with a rinsing section with 12 fixed nozzles, a filling section with 12 mechanized valves, and a single-head capping section.
Comac monobloc bottling machines have AISI 304 stainless steel structures and are treated with anti-corrosion systems compliant with the food industry  current regulations, thus ensuring a long life for the packaged product.
Who are the monoblock bottling machines designed for?
If you're not looking for a do-it-yourself bottling system, and are instead interested in a machine that's capable of guaranteeing a certain bottle filling rate per hour, then this bottling system might be perfect for you.
Depending on the model, in fact, monoblock bottling machines can fill different quantities of bottles per hour. For example, the Comac 30-30-6 filling machine is capable of filling up to 8000 bottles per hour.
The 12-12-1 model, on the other hand, is perfect for filling up to 2,700 bottles per hour: an ideal solution for microbreweries that need to fill a small to medium quantity of beer bottles.
Are you interested in a monoblock bottling machine for PET or glass bottles? Contact us!