Flash pasteurizer
Overview
Machines designed to pasteurize the product with indirect method, through a plate heat exchanger, and stock it in a dedicated tank, before filling into containers. Constant monitoring of the instrumentation parameters onboard of even the smallest pasteurizers allows high flexibility and reduction of waste and downtimes.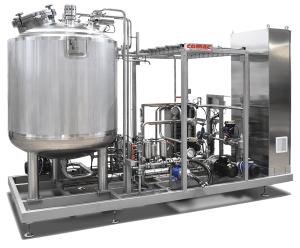 Advantages
Completely automatic operation
Constant monitoring of all working parameters
Time optimization and waste reduction
Maximum hygiene and safety
For standard versions designed for low and medium production, extreme reduction of the space required
Why choosing Comac Flash pasteurizer
If you need a machine that guarantees fast but precise performance, a flash pasteurizer is exactly what you need.
And if you want to be sure that your flash pasteurizer is of good quality, you need to choose Comac.
Comac product meets EU standards for health, safety and environmental protection, in fact it received the CE marking.
The excellent quality is not related only to products, but also to services. At present, Comac offers:
accurate technical support in order to guarantee the correct functioning of the machines and systems;
advanced remote assistance system in order to be always available even if not phisically;
customized solutions that meet all technical requirements of the customers.