Choose the best one for the size of your activity!
Are you looking for a bottling plant for your business? Welcome on the page dedicated to the products by Comac, specifically designed to perform the bottling for small, medium or big industries that work in the beverage field. Comac boasts a twenty years' experience in providing bottling plants for sale, winning over time the trust and satisfaction of small and big customers all over the world. Discover our products!
In this page we will see:
Our bottling plants for sale
Our bottling plants for sale can guarantee excellent performances as they are made of the best materials and are the result of a great work of Research and Development.
Let's discover some of our best solutions.
Bottling plant for small activities
Are you a small beverage industry? Comac designed for you different compact systems to bottle up to6,000 bottles per hour. Comac provides different models with a variable number of nozzles, valves and heads to perform the rinsing, filling and capping of the bottles.
These machines are all automatic, equipped with a control panel, and realized with stainless steel AISI 304.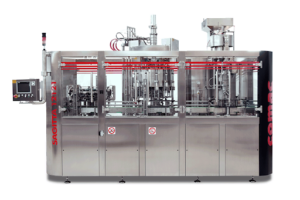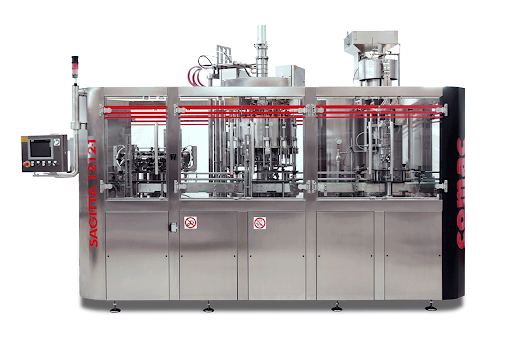 Sagitta 12-12-1 P is a bottling plant able to bottle up to 3,000 BPH.
This machine is based on back-pressure filling technology and is perfect for filling carbonated and still beverages. The machine is designed to realize the entire process of bottlig: from rinsing to capping.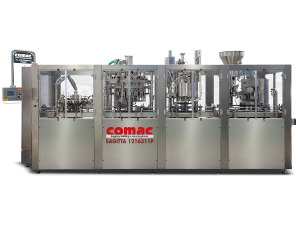 Sagitta 12-16-3 P has a production capacity of 4,000 BPH and presents excellent settings for all filling parameters. It can be customized according to customers' specifications and is ideal for bottling a wide range of products: beer;  carbonated and still water, Hard Seltzer, soft drinks and wine.
Bottling plant for medium and big industries
For higher volumes of production, Comac created different bottling plants for medium and big industries: two systems capable of processing more than 6,000 glass bottles per hour. These bottling plants provide the same features of the other models, on a higher scale: they can carry out the rinsing, filling and capping of bottles.
The plants guarantee long endurance due to the best materials – among which, the stainless steel AISI 304 – used in their production. The process, fully automated, can be easily controlled on a panel.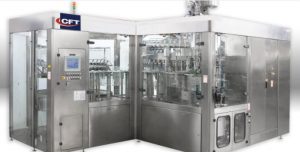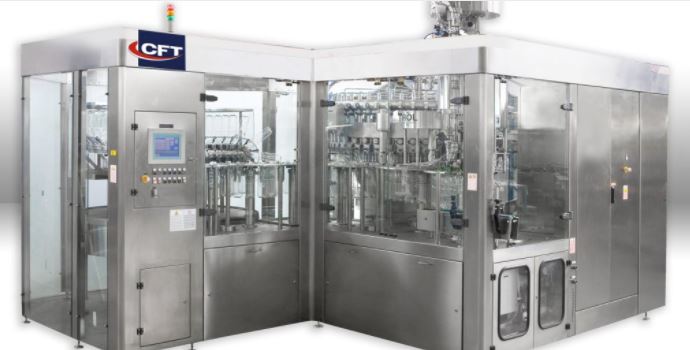 Master PET bottling plant is designed for medium and big industries and is able to bottle up to 70,000 BPH.
It is particular indicated for carbonated and still drinks in PET bottles and is characterized the possibility of filling smooth products under gravity conditions.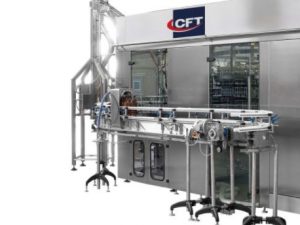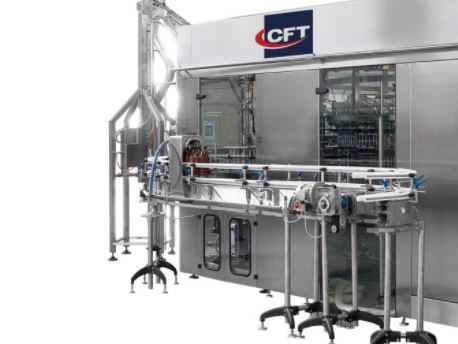 Master G Tech is a bottling plant for sale with a production capacity of 80,000 BPH.
Thanks to its great technological level, this model is able to guardantee excellent performances in the field of carbonated and non-carbonated products.
Master G Tech is a very realiable bottling plant, especially form the hygienic point of view.
Customized bottling plants
All the bottling plants for sale by Comac can be customized in accordance with the needs of the client. We can adapt them to the kind of bottle you are using, to the size of your production and to the spaces of the place you need to install them.
In addition, we provide additional machines to perform other activities on the product, such as:
Carbonation unit to produce carbonated water
Premix unit for the processing of juices and soda
Pasteurizer unit to sanitize the packaged product
The heating and cooling units.
Our ancillary machines
In order to obtain a more complete bottling plant, Comac offers also many ancillary machines:
Contact our staff and explain your needs, we will be happy to help you find the best solution!