Bergamo HS6T
Overview
BERGAMO HS6T is a fully automatic modular system for the pre-washing, washing and filling of kegs, designed for high-speed and high-efficiency production lines.
The keg system consists of three modules: a pre-washing module, a washing module and a filling module. Each module is made of AISI 304 stainless steel and equipped with six treatment heads.
The modular design allows to combine two or more systems, to increase the total output of the keg line.
The pre-washing, washing and filling heads are made of AISI 304L or AISI 316L stainless steel, with internal roughness <0.6 μ, and are equipped with EPDM seals, PTFE valve obturators and indicators, to control the keg fitting spear opening and the various cycle phases.
The filling is controlled by magnetic flowmeters.
Kegs are conveyed into the machine through an automatic system with orthogonal axes, and transferred directly onto the various treatment heads, each equipped with devices for the control of the work cycles.
The electrical panel is made of stainless steel (IP54) and provided with PLC; the pushbutton control station is likewise made of stainless steel (IP54) and provided with an operator panel (HMI), for the control and setting of the machine operating parameters.
The filling module is pre-set for the automatic execution of the sanitization cycle (CIP) and does not require the manual installation of dummy kegs on the filling heads.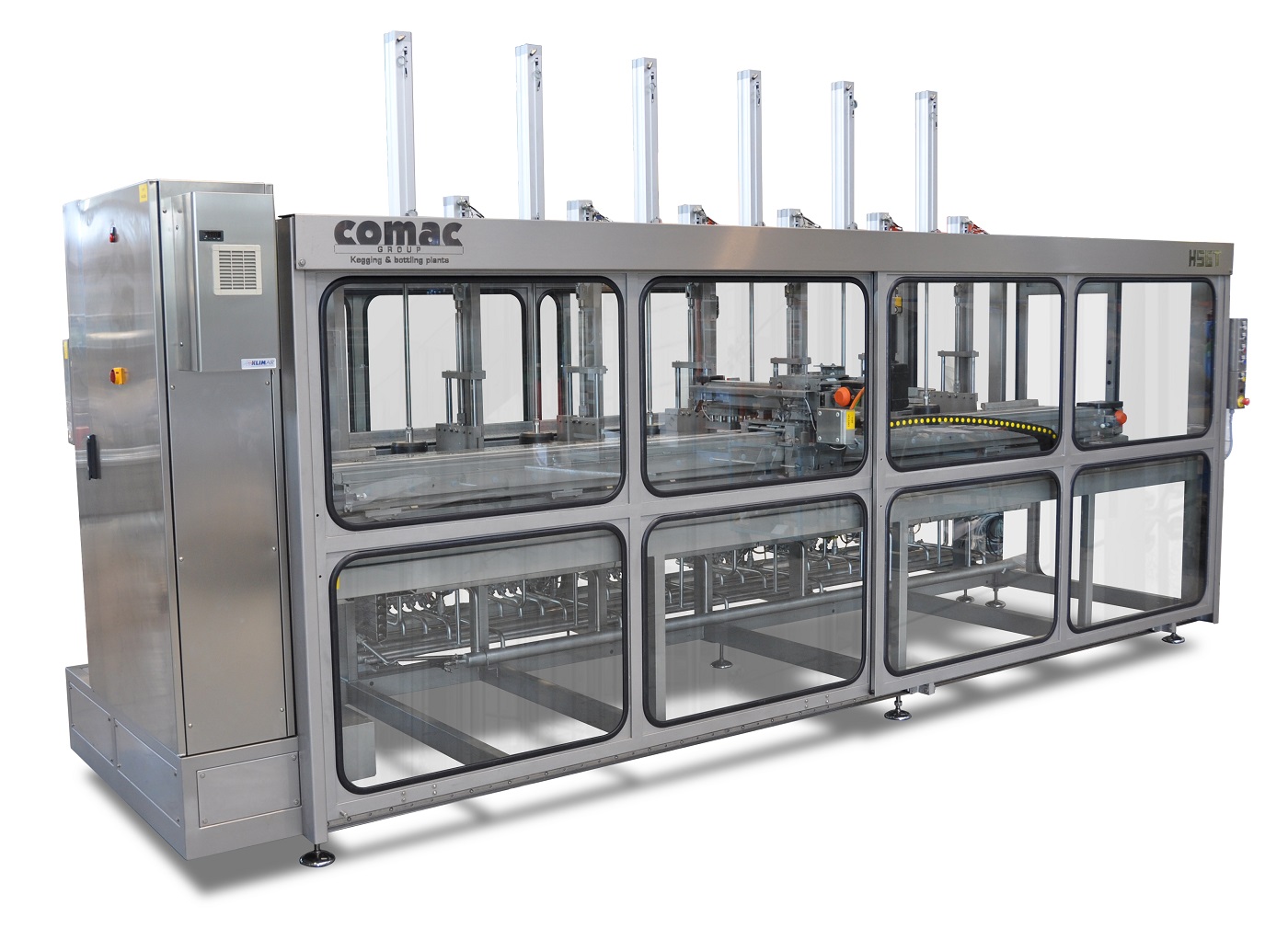 Advantages
Very high degree of efficiency.
Hygienic design of all parts in contact with product
Optimization of the cycle times due to a fast-loading system and a working cycle that does not require to shift the keg from one head to another inside the machine.
Since the pre-washing, washing and filling cycles are each performed by a single head, the number of openings of the keg fitting spear is reduced to a minimum, with the consequent reduction of the wear of the head moving parts and relevant seals.
The caustic soaking phase (between pre-washing and washing) can be customized by increasing the length of the conveyor that connects the pre-washing module to the washing one.
The sterilization time (between washing and filling) can also be customized, as it depends on the length of the conveyor between the washing and filling modules.
Improved flexibility of the line, as each pre-washing, washing and filling head is independent from all the others: a damaged or faulty head can be disabled while production continues with the others, reducing downtimes.
Equipped with components that are easy to find on the market
Products
Beer
Cider
Sparkling and still wine
Carbonated soft drinks
Carbonated and still water
Formats
Stainless steel kegs
PET kegs