Comac is a leading manufacturer of beer packaging equipment for the international market. Discover our beer kegging systems for both microbreweries and big industries: affordable, professional, easy to use and maintain. Cheers!
We produce a complete range of beer kegging systems in different size and complexity, to meet the different production capacities of both small breweries and big industries. However, the goal of our machines is always the same: help you preserving all the taste and uniqueness of your beer over time, providing a high quality kegging system.
In this article we will see all the beer kegging equipments offered by Comac, according to breweries dimensions:
Beer kegging system for microbreweries
To meet the requirements of the smallest producers, we launched a range of semi-automatic and automatic kegging systems that can process between 15 and 40 kegs per hour. All the systems provide the washing, filling and sealing of kegs. You just have to move the kegs inside and outside the machine.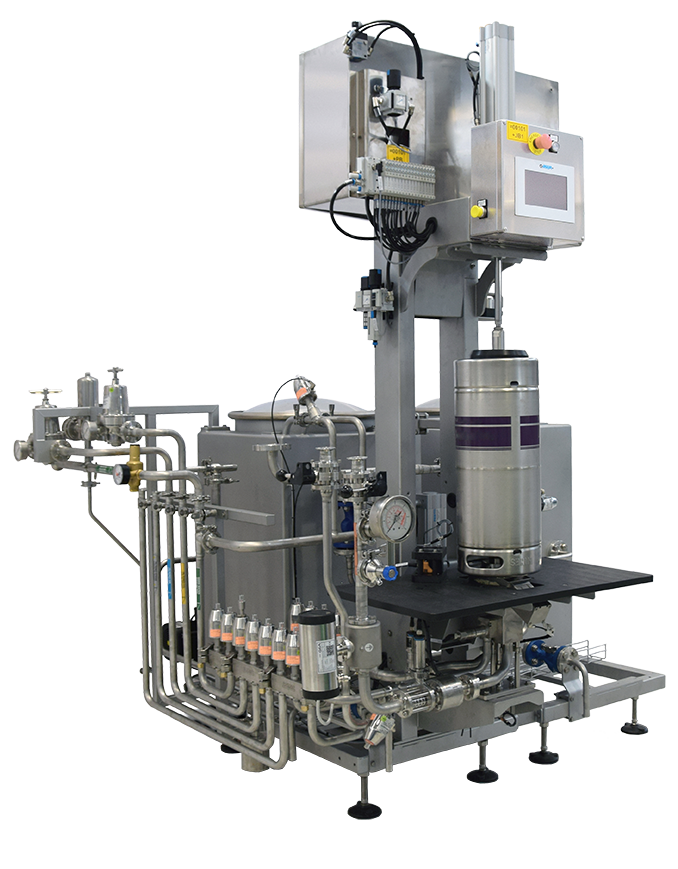 The picture shows a beer kegging equipment to process up to 15 kegs per hour. The structure is entirely made of stainless steel, it includes supports the washing solution dispenser, the heads of treatment, centrifugal pumps, the electrical panel and all the pipes; however, it is extremely compact so to be easily installed in small spaces.
The systems up to 40 kegs per hour are slightly bigger but, on the other hand, are fully automatic. You just have to load the keg on the conveyor belt and control the system via the electrical display.

Beer kegging system for medium breweries
When your production capacity grows and you start selling regularly the beer outside your brewery, then you need a fully professional beer kegging equipment. We can help you with several solutions from 40 kegs per hour up to 250 kegs per hour.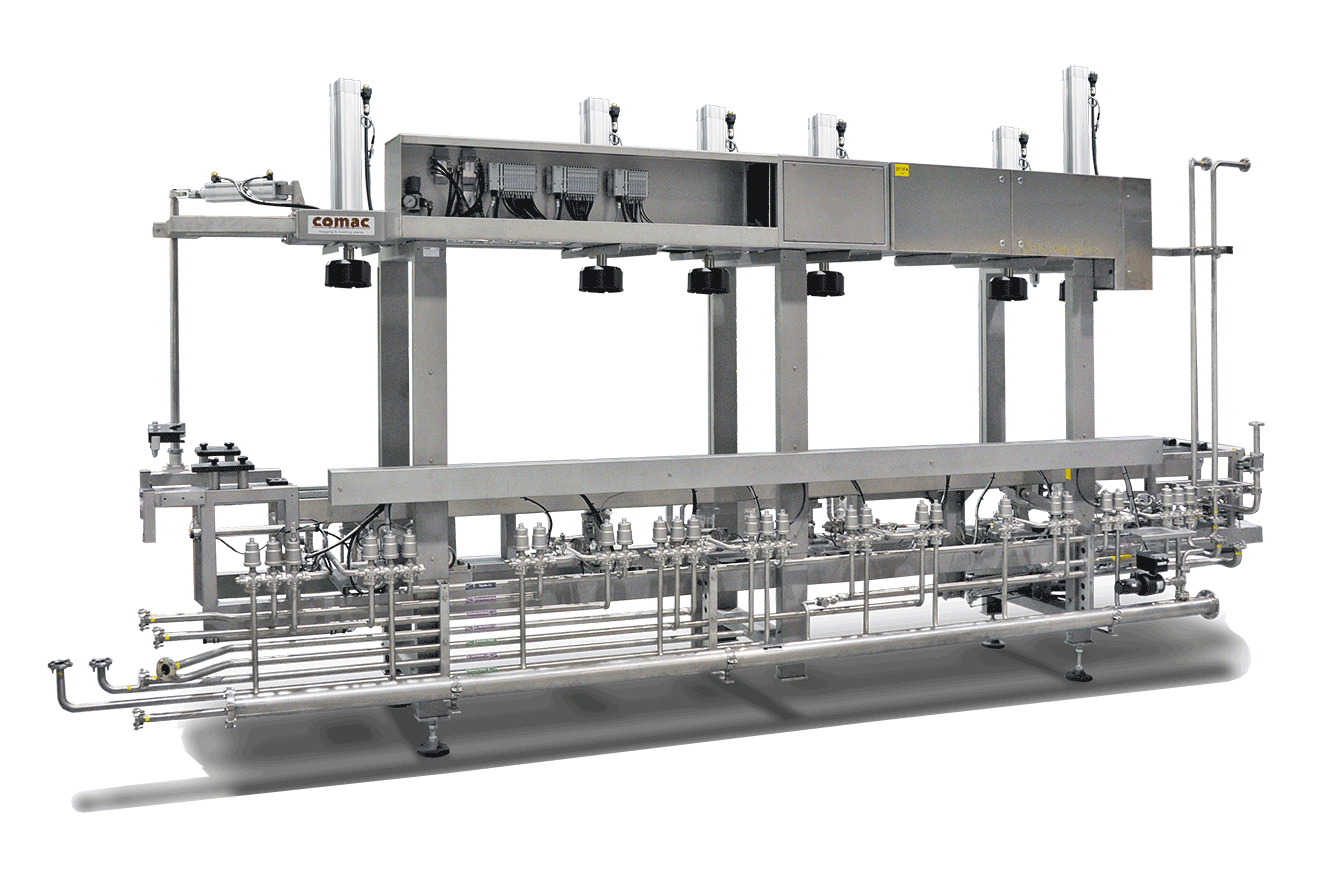 The systems are fully automatic and provide the washing, filling and sealing of kegs. They are made with stainless steel in order to guarantee the maximum hygiene and duration. You can set the parameters and check the operations on a control display.
Beer kegging system for big industries
Over the years, our packaging systems have been trusted by several prestigious brands in the beverage sector, such as Heineken, Coca-Cola, Carlsberg, SABMiller, Mahou San Miguel, Bavaria, Baltic, Miller Coors… Our biggest beer kegging systems can process between 250 and 1000 kegs per hour with minimum product waste, maximum hygiene and impeccable results. Every step of the packaging process is automatic, including all the handling operations of the kegs.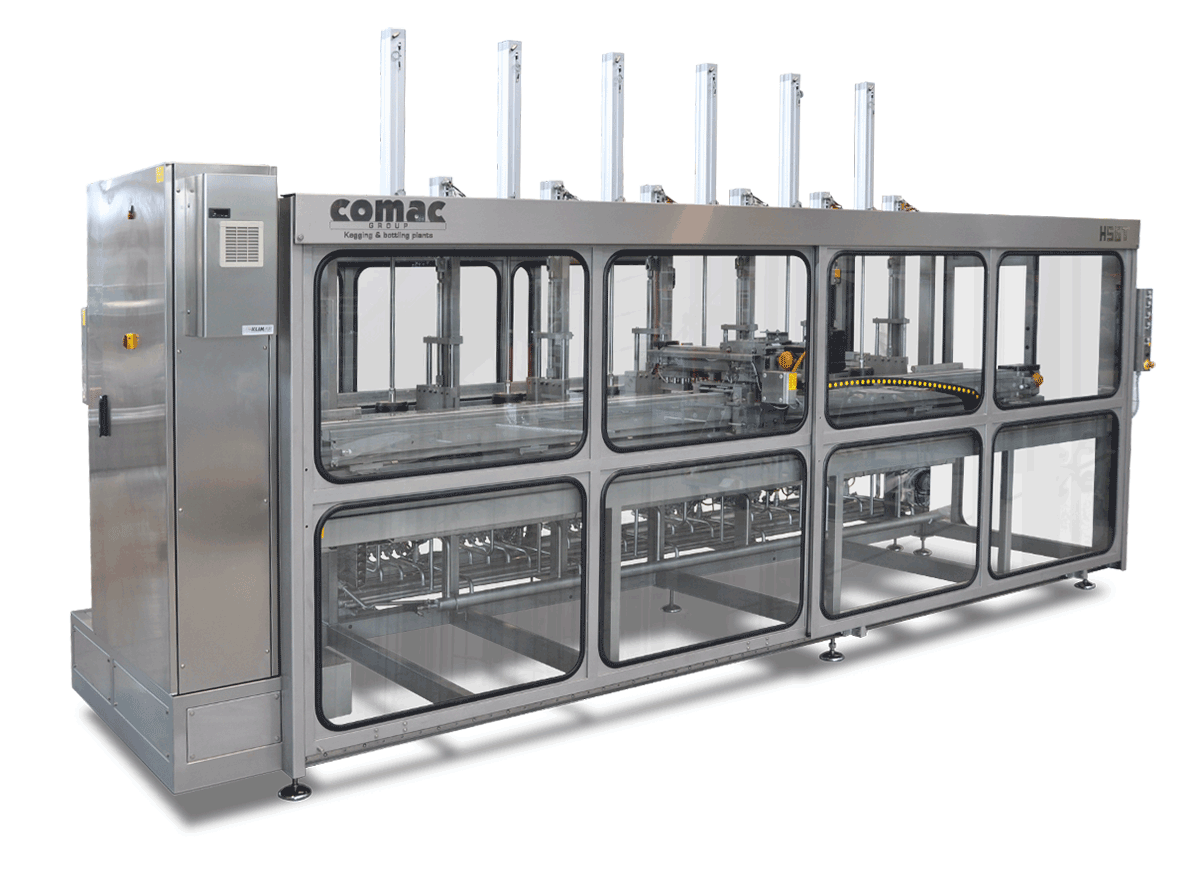 Why choosing Comac for your beer kegging supplies
Thirty years of experience in the field have taught us to go further simple beer kegging supplies. In fact, not only do we help you choose the beer kegging equipment most suitable for you, we also install it and offer a series of services like:
excellent supplying services and logistics
immediate telephone assistance
remote assistance via webcam
Customize your beer kegging system
On request, we can customize the existing systems according to your specific needs, or even design a brand new system with all the desired parameters, in order to allow the processing of any type of keg, from the steel to plastic ones.
Contact us to ask any information about our beer kegging systems and their customization possibilities!