Hygiene, speed and control are just a few reasons to choose Comac bottle fillers. Since 1990 we have been providing bottle filling systems and plants for any kind of breweries – from microbreweries to large international activities. Discover here why you'd better opt for Comac bottle fillers.
The production of bottle filler plants and machines has always been the core activity of Comac's business. For more than twenty years, Comac has been researching, developing and creating cutting-edge bottle fillers for any use and any customer, placing as one the world leaders in bottle packaging systems.
Our standard plants include the following machines:
Automatic bottle fillers for small breweries
Automatic bottle fillers for medium breweries
Automatic bottle fillers for large activities
Read on to discover all the features of our machines.
Automatic bottle fillers up to 6,000 bottles per hour: these machines are designed for small activities and micro-breweries to join productivity and flexibility. Compact in size, easy to use, hygienic and efficient, the units will bring your production to the professional level.
Automatic bottle fillers for over 6,000 bottles per hour: without neglecting compactness and ease of use, Comac offers high-capacity plants and machines to process more than 6,000 bottles per hour, perfect for medium and big industries. Thanks to the modular design of the machines, the plants can reach whatever capacity is needed. Realized with the best materials and technologies, the plants guarantee maximum hygiene and efficiency.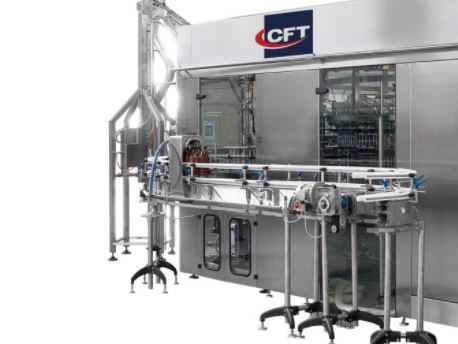 Still wondering what the right bottle filler for your activity is? Contact us to discover more.
Why should you choose a Comac's bottle filler for your industry?
Since 1990s Comac has been providing high-speed bottle filling systems and plants to help breweries of any size increase their productivity. Throughout the years we have been acknowledged as one of the most important innovators in the field, and collaborated with brands such as Heineken and Carlsberg.
This is due to some services and features we are able to guarantee to customers such as the following five:
Flexibility
Comac's bottle fillers are designed to rinse, fill and cap any kind of bottle, for any kind of liquid product. Not just beer and wine, but also water, soft drinks, juices, alcoholic beverages: a Comac's bottle filler can deal with many different drinks, both in PET and in glass bottles.
Customization
Comac serves many different customers all over the world: from small microbreweries, up to the biggest industries such as Heineken, Coca Cola, Carlsberg, and many more. Comac's bottle fillers are produced in different models in order to fit any production size: from the systems to fill 700 to 4.000 bottles per hour, to the plants capable of processing up to 12.000 BPH. In addition, every bottle filler can be customized in order to meet all the needs of each customer.
Hygiene
Comac knows that hygiene is the most important quality in the production and packaging of beverages of any kind. For this reason, Comac's bottle fillers are made only with the best materials, such as the stainless steel AISI 304, an alloy renowned for its special structure, resistant to corrosion and acids. The quality of the materials is the secret of the high level of hygiene granted by Comac's plants, which can last for a long time without corrosion and rust. In addition, every bottle filler is equipped with an automatic device designed to clean the filling valves, avoiding any risk of contamination during the process.
Control
Control is an important element in the brewing process, especially if you want to manage the production in order to avoid any waste of product or time. All Comac's bottle fillers are equipped with a control panel that let you check the process with a single look, at any time. The rinsing system includes a device that stops the spray if no bottle is found on the line; a similar no bottle-no fill device is mounted on the filling system, in order to prevent any loss of the product.
Reliability
Thanks to Comac 20 years' experience and its commitment in always improving its machines and products, all the bottle fillers on the market are extremely reliable and fast machines, which have never disappointed any of Comac's customers. One of the secret of Comac's reliability are people: they expertise, passion and competence are the best allies in understanding the clients' needs and proposing the best product to meet them. This is the reason why all Comac's customers are always satisfied.
That's not all: if you need special machines to perform particular operations on the bottled products, such as beer bottle fillers with special features, Comac also sells saturation units, premix units, tunnels of heating and cooling and pasteurizer tunnels besides its bottle fillers. A complete series of plants and machines for professional packaging.
Would you like to know more about all Comac's models of bottle filler?