11 September 2020
Automatic canning machine: for beer, soft drinks, and more! The latest trends in cans
Systems with automatic canning machines are generally used by large breweries or makers of carbonated soft drinks or energy drinks. The new versatile models allow to explore new horizons while expanding production. Here are two of the latest trends in cans to be followed.
In one way or another, companies need to adapt their production to the latest consumer trends. It is a harsh reality of the market, and there's no escape.
The latest trends are leaning towards a preference for cans for classic soft drinks, as well as for other less likely products, including wine and cocktails.
Studies have shown that this format's strengths lie in its affordability and convenience. It's perfect for special occasions, like boat trips, picnics with friends, and music festivals.
Does this sound like the perfect excuse to add an automatic canning machine to your line, or to replace the one you already have? We think so. Keep reading to find out why.
A canning machine for wine
If you're a wine producer and want to win over consumers, a canning machine for your wines will certainly be a good purchase.
In fact, the recent trend of canned wine is one that some consumers have refused to accept (especially in Italy, one of the world's main wine producers), but it's slowly gaining ground, especially in the United States.
The global trend of moderate drinking is taking hold, and this has led to an increase in the sale of 250 ml cans of wine rather than 750 ml bottles.
This wine format's positive trend is closely linked to the demand for product functionality and sustainability on the part of younger consumers.
Pre-mixed cocktails: a new challenge for canning machines
A little something extra for the HO.RE.CA. sector… a new type of customer for your portfolio. Choose an automatic canning machine that's capable of perfectly handling any type of beverage.
Popular also in sachet alternatives, ready-to-drink cocktails are becoming increasingly popular all over the world. Perfectly mixed Negroni, Mojito, and Moscow mule cocktails, ideal for a last-minute aperitif.
In order to ensure that the product tastes as fresh as can be, cans are definitely the best option, as they eliminate perishability issues.
These are very popular in the HO.RE.CA. sector, especially hotels that want to pamper their guests by offering an in-suite minibar with an ever greater selection.
Comac's new automatic canning machine
Take on the competition with high quality products and just a limited investment, thanks to Comac's new automatic canning machine.
A new model has been added to the line of canning machines that Comac designs and manufactures for use with various types of beverages: the Smartcan 8-1, the automatic canning machine equipped with a gravity valve.
This machine is one of its kind on the market, and features an electronic seam check function, which is essential for quality control: the finished product is immediately discarded if it doesn't meet the quality standards.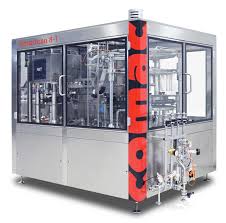 Why should you choose this specific canning machine?
There are several reasons, and they can be summarized as follows: 
performance levels equal to the isobaric models;
ease of use;
affordability.
In fact, thanks to the gravity valve, which also reduces CO2 consumption, this canning machine has the same controlled performance levels as the isobaric models. At the same time, however, being completely electronic, it's much easier and faster to regulate using the dedicated operator's panel.
But fear not: this new automatic canning machine has a low initial cost. If you're on a tight budget, but want to obtain high quality products that measure up to those of your competitors, this is the machine for you!
Find out more about Comac's automatic canning machine